Dave Doggett: Cambridge United not overspending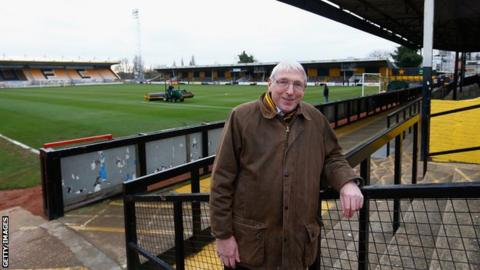 Cambridge chairman Dave Doggett says the club are not overspending, despite a number of high-profile signings.
The U's have signed six this summer - including Luke Berry for a fee - and are regenerating parts of the stadium.
"When I joined the board, we said we'd run this as a proper business, not a hobby or ego trip. I can reassure everyone it's happening," he said.
"In terms of financial fair play, 55% is when you get into trouble - we're way, way, way below."
Berry rejoined the U's from Barnsley for an undisclosed fee, and followed the signings of Elliot Omozusi, Keith Keane, Leon Legge, Mark Roberts - who all played in League One last season - as well as Southend's Barry Corr.
Doggett was keen to stress that they were not just using money from the FA Cup third round matches against Manchester United in January, and instead their spending is part of a long-term strategy.
"When we speak to other clubs they tell us we've done this right, honestly and professionally, that we've transformed a business that was failing into one that's becoming a success," he told BBC Radio Cambridgeshire.
"There's still a lot of work to do and we won't take our foot off the pedal until we keep moving up - sporting facilities at Trumpington help us make sure we have more youngsters in the sport, a modern stadium where people can bring their families and enjoy a day out.
"It's about having a social responsibility, understanding the passion of football, but making sure it's done right."