Women's World Cup: Mark Sampson defends England display
By Alistair Magowan
BBC Sport in Moncton, Canada
Last updated on .From the section Women's Football
England head coach Mark Sampson said his side produced a "strong" performance as they lost 1-0 to France in their Women's World Cup opener.
Eugenie Le Sommer scored the only goal at Moncton Stadium and England struggled for an equaliser despite improving towards the end of the match.
France are ranked third in the world, three places above the Lionesses.
"I would suggest fans stick with us. We have taken a top team right to the last minute," said Sampson, 32.
"You have to understand the level of competition."
England scored 52 goals in 10 games to qualify but could only manage three shots against France.
"Of course we are disappointed with the result," added Sampson, who is managing in his first major tournament.
"But, from the objective of giving ourselves a platform to build on, we have achieved."
France beat England 3-0 at the 2013 European Championship when former boss Hope Powell was in charge.
"If people are looking to see players who work hard and put their bodies on the line, stick to a game plan and stick together, then for me they were good value for money," said Sampson, who set out his team to nullify France.
"We have had question after question on the physical condition of the players, but I hope that is put to bed now."
Bassett 'let down' by officials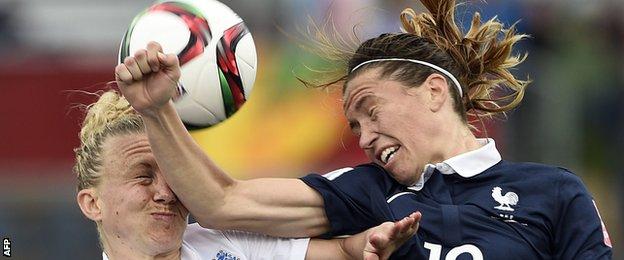 England defender Laura Bassett appeared to be elbowed by Camille Abily during the second half.
The 31-year-old Notts County player was seen after the game with a large swelling around her left eye.
Sampson said he felt England had been "let down" by the officials.
"If you see her face on TV screens, you will see what the decision should have been and we were disappointed with that," the former Bristol Academy boss said.
"We were told before the tournament that we would be protected if we abided by the rules. I think we have been let down by that one - and so has she."
Fans struggle to get into stadium
Hundreds of fans were left queuing outside the ground after the game had kicked off at 2pm local time.
The 13,700-capacity venue has two entrances, but transport from the local town was dropping the majority of supporters at one of them.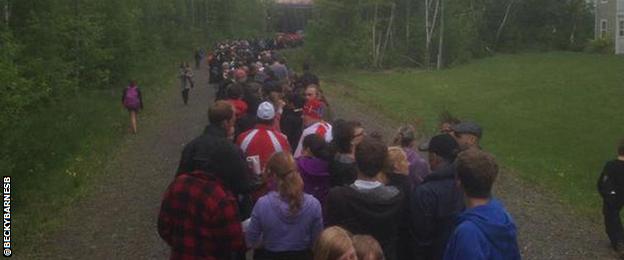 Stephane Delisle, venue general manager at Moncton Stadium, told BBC Sport there would be improvements for the second round of games on 13 June so fans got to the ground earlier.
He said: "I don't fully understand all the reasons but if I had to speculate it's probably a little bit of a maritime laid-back approach where people showed up at what they saw was kick-off time. We want people to learn from now to the 21st June - the final game in Moncton - to be in your seats early.
"It's unfortunate some people may have felt delayed at the gates, but we are comfortable that we can improve on that, assuming spectators adjust their behaviours as well."
England need to 'show world' what they can do
England's failure to create more clear-cut chances was a talking point.
Arsenal midfielder Rachel Yankey believes the team need to be more adventurous in the remaining two Group F games, against Mexico and Colombia.
"It's a 1-0 defeat, it's not the worse-case scenario and they move on to the next game," said the 35-year-old on BBC Two.
"The girls really need to go out and show the world what they can do because we have got some good players.
"Hopefully, in the next game, England can push on more."
Attack, attack, attack!
England's defensive tactics disappointed Liverpool forward Natasha Dowie.
"You need to be doing it against the best teams - not the weaker ones," the 26-year-old said on BBC Two.
"This whole change of formation really doesn't suit England. I really hope to see a more attacking game in the next two games.
"I don't think it's too bad a result for England. I don't think they will be too disappointed, but it wasn't a great game for either team."