Deadline Day: Transfers must be finished early on 1 September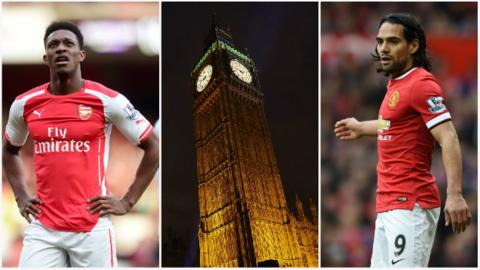 Transfer Deadline Day will be done and dusted by dinner on 1 September rather than its usual 23:00 BST climax.
The deadline was shifted from 31 August as Premier League rules prevent it from falling on a Bank Holiday.
But as Champions League squads must be submitted to Uefa by 23:00 BST on 1 September, the Premier League has decided on a 18:00 BST deadline.
Teams in Europe will have five hours to register any late signings to their squads for Uefa competitions.
Their need to comply with European football's governing body means the usual late-night drama as players, clubs and agents work deep into the night, will be done in daylight.
If Stoke City's Peter Odemwingie wants to drive to a new club - as he did when looking to join Queens Park Rangers in 2013 - he will have to negotiate rush hour.
Indeed, as Great Britain's roads fill up at the end of the working day, helicopters may be in demand to ferry wanted players to training grounds in similar fashion to Juan Mata when he made his move to Manchester United last year.
Still, at least the stresses of the day will not drag out.
"The January I moved from Birmingham to Blackburn, I sat there by the phone for 13 days, worrying, waiting for it to go through - I lost a stone," said BBC pundit Robbie Savage in 2011.
Last season's most recent deadline day - 2 February - saw Chelsea sign Juan Cuadrado from Fiorentina as around £130m was spent in the January window.
But the summer opportunity to sign players typically sees more activity, with £835m spent on players in the window by its close on 2 September last year.