Motherwell general manager Alan Burrows calls for play-off change
Last updated on .From the section Football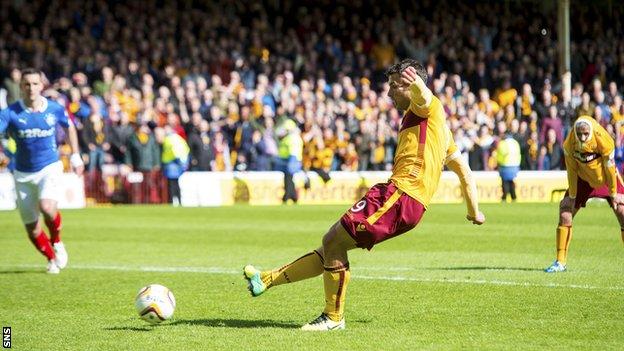 The Premiership play-off final should be a one-off game at a neutral venue, thinks Motherwell general manager Alan Burrows.
However, Burrows argued that the English model of a one-game final is the way to go.
"Who does play-offs better than anyone else in the world? Probably England," he told BBC Scotland.
"The model they have is you play one team, double header, the winner then goes through and plays the other team at a neutral venue and that seems to work."
In the current play-off system for promotion to the Premiership, which was introduced in 2013 when the leagues combined to create the Scottish Professional Football League, the teams finishing third and fourth in the Championship face each other over two legs.
The winner of that tie than plays the second placed team home and away, before the victor faces the side finishing 11th in the Premiership, again over two legs.
"I heard [Rangers manager] Stuart McCall saying that maybe the two games were two too many, they'd played six games I think in the space of 12 days [it was 22 days]," said Burrows.
"To an extent I agree with him. I think that's a huge ask for any team at the end of the season.
"I would be much more in favour of that particular model where you have less games involved then the final is at a neutral venue."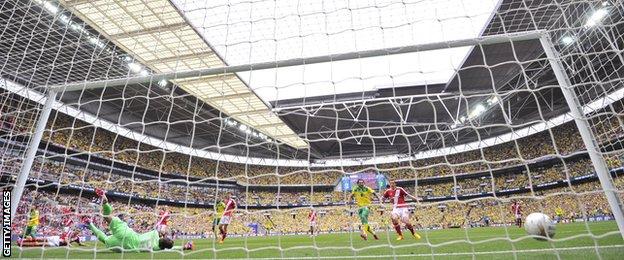 One of the issues arising from this season's final and semi-final was ticket allocations, with Motherwell receiving only 950 tickets for Ibrox despite a request for more.
In response, the visiting support numbered just 1,500 on Sunday, despite half a stand being empty.
There was a similar scenario when Hibs and Rangers met in the previous round.
Burrows explained: "It's not in our DNA, it's not in Motherwell football club's ethos whatsoever to be turning supporters away from a game; it goes completely against the grain of what we want to do.
"We just wanted a fair deal for our fans going there. We weren't asking for a huge amount of tickets for Ibrox; 2,000 tickets, upon that we would have given Rangers their normal allocation."
Sunday's Fir Park clash, which the home side won 3-0, ended on a sour note with Rangers defender Bilel Mohsni aiming a punch and kick at Lee Erwin which sparked a brawl between players.
In addition, a number of Motherwell fans ran on to the park and goaded the away supporters.
In a statement, Rangers labelled the scenes "disgraceful" and praised their fans for "showing admirable restraint despite severe provocation".
Burrows responded: "If there's issues between clubs we always try and keep it behind closed doors and try and sort it out, so from that point of view it is a little disappointing Rangers have felt the need to comment on our supporters. We certainly wouldn't do that.
"There was significant police presence, almost double what we would normally have for a game, way more than we would normally have for a Celtic game, because of the fact we thought there may be a bit of a difficult atmosphere."