Scottish FA defends decision to play Qatar friendly
Last updated on .From the section Football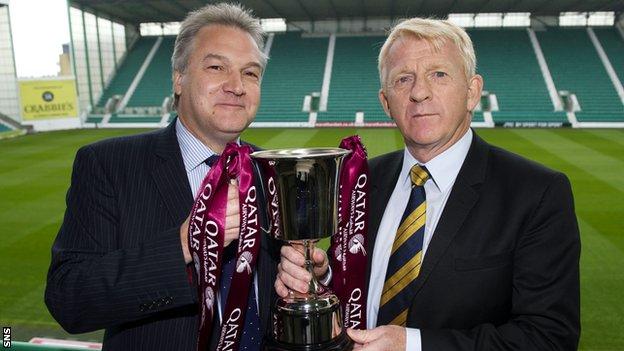 The Scottish Football Association has moved to "clarify its position" over Scotland hosting a friendly against Qatar in Edinburgh on Friday.
It has drawn criticism for agreeing to the match amid concerns at the poor conditions for workers building the 2022 World Cup infrastructure.
"It is important to separate this sporting fixture from the serious human rights issues emanating from Qatar," said an SFA statement.
The game will be played at Easter Road.
The fixture will act as a warm-up for Scotland's Euro 2016 Group D qualifier against the Republic of Ireland in Dublin on 13 June.
"As noted recently by Amnesty International, it is important that the universal reach of football can be used in a positive manner to highlight inequalities and be a force for good," continued the statement.
"Qatar's availability in the United Kingdom represented an opportunity preferable to the few available alternatives on a date that is not on the official Fifa international calendar.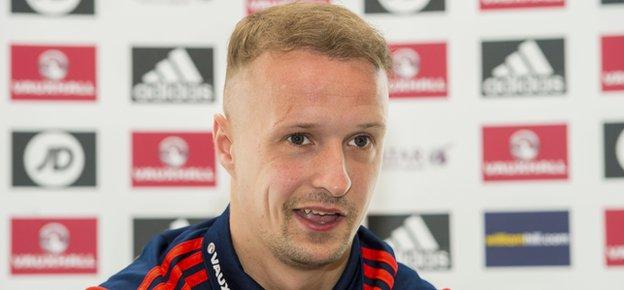 "We are grateful to the Qatar FA for their flexibility during their UK tour.
"We are also cognisant of disturbing reports on the conditions experienced by migrant workers involved in the building of stadia for the forthcoming Fifa World Cup in 2022.
"For the avoidance of doubt, the Scottish FA condemns any behaviour that compromises human rights and, in conjunction with the Scottish government, we have already stated our joint offer to provide practical support.
"This was offered after a hugely successful Commonwealth Games held in Glasgow which reiterated Scotland's ability to host world-class events in a safe and sustainable manner.
"That offer remains open and we have reiterated our position to the Scottish government in that regard.
"We have been in contact with Amnesty International to outline our position and to ensure positive and productive dialogue in the lead-up to the Qatar match and beyond."
Celtic striker Leigh Griffiths, recalled to Gordon Strachan's Scotland squad, insists the players are unfazed about facing Qatar.
"Whoever deals with it deals with it but as players we just concentrate on the game," said Griffiths.
"We can only play who is in front of us and try to win the game. We will be doing that on Friday night and it will be a good test before we go to Dublin [to face the Republic of Ireland]."