Champions League final: Xavi aims for treble in last Barcelona game
Last updated on .From the section European Football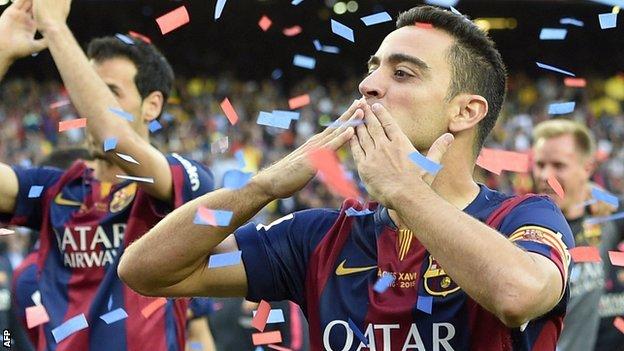 Midfield great Xavi is seeking to end his illustrious Barcelona career with victory in the Champions League final.
Xavi's last game for Barcelona will be on Saturday 6 June against Juventus, when the La Liga and Copa del Rey winners will try to repeat their 2009 treble success.
"We are in a position where we can start to make comparisons [with 2009]," said Xavi, who is joining Qatar side Al Sadd after 17 years with Barcelona.
"We want to make history." 
Xavi, 35, who secured his 24th trophy with Barcelona when helping them beat Athletic Bilbao in the Copa del Rey final on Saturday, was a key part of the side coached by Pep Guardiola which beat Manchester United 2-0 to win the 2009 Champions League - for their first treble.
Luis Enrique is now bidding to repeat that feat in his first season in charge at the Nou Camp.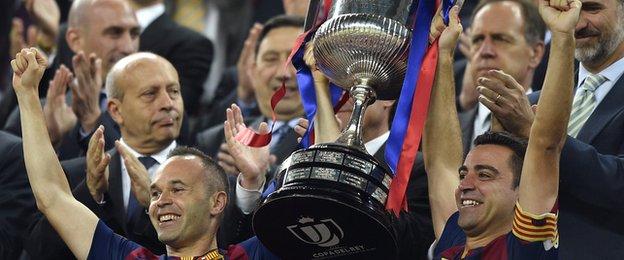 Former Barcelona midfielder Enrique, 45, said: "We are almost there and it would only be the second time that a club like this, with so much history at a high level, has been able to do it.
"It will be difficult but that is what we are working for now. It really would be superb if we could do that. "
Juventus are also trying to secure a treble of their own after winning Serie A and the Italian Cup this season.
They finished their domestic season with a 2-2 draw at Hellas Verona on Saturday and will be attempting to win the Champions League for the third time in their history.
Coach Massimiliano Allegri said: "We must try to limit Barcelona and not just think about them, but also play our own game.
"The team don't need firing up; patience, a level-headed approach and mental strength are what will be required.
"It's not every day you get to play a Champions League final and we need to prepare for it with a calm approach."