Fifa congress: Palestinian FA drops bid to have Israel suspended
Last updated on .From the section Football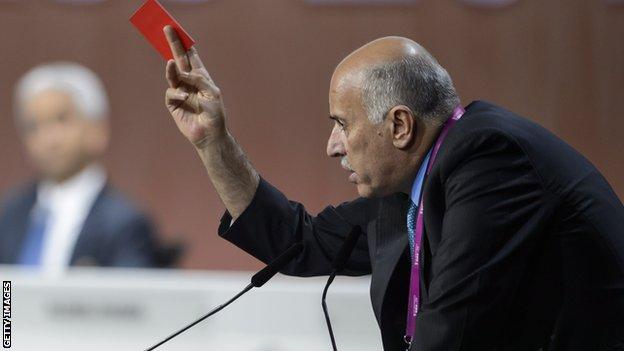 The Palestinian Football Association has dropped its request for Israel to be suspended by Fifa.
PFA president Jibril Rajoub said: "I decided to drop the suspension but it does not mean that I give up the resistance."
The PFA accused Israel of hampering its activities and restricting the movement of players between the Gaza Strip and the Israeli-occupied West Bank.
It wants a committee formed to ensure free movement of players and goods.
Israel cites security concerns for the restrictions it imposes and the country's football association has argued that it has no control over security forces.
Rajoub added: "A lot of colleagues who I respect and I appreciate explained to me how it is painful for them to hear in this family about the issue of suspension."
Ofer Eini, president of the Israel Football Association, welcomed the decision which follows a visit to the region earlier this month by Sepp Blatter, president of football's world governing body Fifa, who met Israel's Prime Minister Benjamin Netanyahu and Palestinian President Mahmud Abbas.
Eini said: "It's a happy day for anyone who loves football and believes that peace is possible.
"I shook hands with Rajoub with faith and sincerity that we can make a change."
The motion had been included on the agenda at Fifa's congress in Zurich.