Fifa corruption crisis: Who does Sepp Blatter think he is?
Last updated on .From the section Football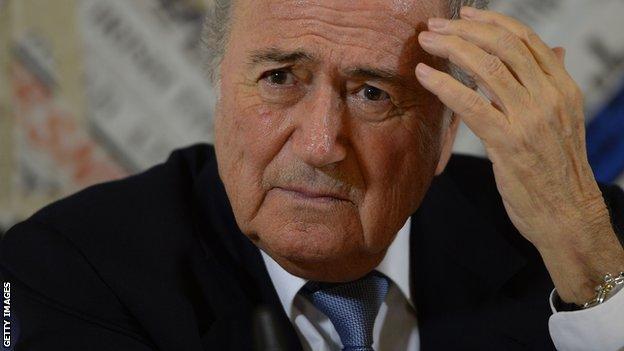 Sepp Blatter, approaching his 80th birthday, shares a lot in common with other men his age.
He enjoys long walks in the Swiss countryside. He listens to classical music every morning. He challenges himself to solve a crossword or sudoku puzzle.
There's even an occasional tot of whisky (Johnnie Walker, if you plan on buying him a drink anytime soon).
However, unlike any other 79-year-old, Blatter is adamant he is still the best man to take football's scandal-stained world governing body forward, attempting to win a fifth term as Fifa president in Friday's election, in defiance of the deafening calls for him to quit.
To better understand who Blatter is and why he still wants to be president, BBC Radio 5 live sports news correspondent Richard Conway spoke to six people who know the Fifa leader well.
Gerhard Aigner, former general secretary of Uefa - 'He's terribly ruthless'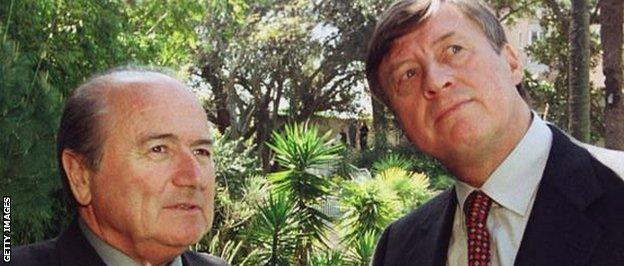 "Blatter has an incredible talent in judging other people, in seeing their weaknesses, detecting them and making use of these weaknesses at the right moment. He's able to charm people and he also studies the circumstances around people - how they react in certain situations.
"And then he sets up his plan, using these people. Once he decides to move, he has everyone in place and he can play his cards accordingly. And people react the way he expects them to react.
"Once we were invited to a referees' seminar by the Italian Football Federation. It was being held in a region (Savoy) that cuts across both Italy and France. So I called Sepp and offered to drive us both there as he had been invited too.
"On the way there I said 'Sepp, we will have to speak [at the seminar]. Do we speak Italian? What should we do?' Blatter said, 'This is Savoy. We speak French!' So I'm called up to make a speech. I go up and speak in French. Afterwards, when he's called up, he goes and speaks Italian! This is Blatter. He wants to be 'the big one'. And I speak better Italian than he does!
"On the one hand he has a complex of inferiority, related probably to his body size. He's a small fellow. He needs to establish himself and prove himself. And on the other hand he's very much someone who likes to stand in the centre of attention - so he looks for the platform. And he's extremely hungry for power.
"Blatter has created himself his own world. He wants to appear like a king, like an emperor, like the Pope. He sees himself on the level of these people. He can be terribly ruthless. I've heard people say he would sell his own grandmother. When it serves him - and when his power is at stake - he will do almost anything to defend it.
"He's a great actor - he played theatre in his young days. So he's very able to assume different roles.
"He's also saying today is green and tomorrow, for the same thing, blue. And it doesn't bother him at all. So he's able to change roles easily and defend his new role without any difficulties. Even if yesterday's role would say the opposite. That doesn't give him any problems.
"He has all the power and he can manipulate the way he wants. He knows everything. He is the spider in the centre of the web."
Corinne Blatter, Blatter's only daughter. 'He has a brilliant mind'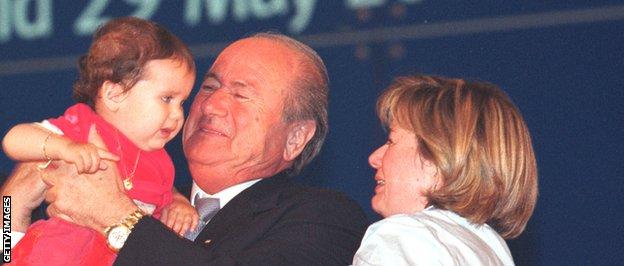 After living in New York and Sydney, Corinne now lives in Sepp Blatter's hometown of Visp, in southern Switzerland. She owns a local restaurant, Bistro Napolean, with her husband.
"To be in his position you need to be very strong and have broad shoulders. People see him meeting very important people, being picked up in limousines and staying in great hotels. But they don't see the work behind it. When he's in the office in Zurich he has to work and that's when his brilliant mind comes into play. His secret is really his brilliant mind. The way he can think, it's fascinating.
"It would be terrible for him to retire. He's a man who has always worked. He's working honest hours - he's not working as long as he used to, but he needs to work. That is his motor to go on. If you take that away from him I don't know what is going to happen, to be honest.
"He is a family person. When he's here we always have a get-together, lunch, the whole family. It's great. And that's what he wants - that's why he comes to Visp. It's to reload his batteries.
"He has two or three people that he can talk to privately. He goes to those people, he talks to them, he lets everything out. We speak a dialect in Visp and he just lets it out. He lets off steam and he's fine.
"We go walking or we drive around in the car and he just starts talking. He talks about all the problems on his mind and suddenly he says, 'Ah! That's it! I can do it this way!' Suddenly he just opens up the solution or the way he can do it. It's amazing.
"I think when he's gone, when he's not Fifa president, they are going to realise what he has done. They'll say 'he was a great man' and he was a visionary. Thanks to him the world is a little better."
Jim Boyce, Fifa executive committee member 2011-2015 - 'An insatiable appetite'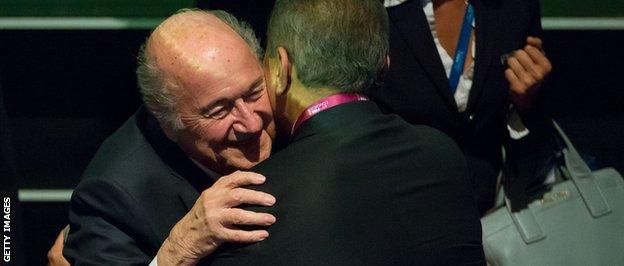 "Sepp Blatter is so dedicated to Fifa it's like a marriage. He wants to continue to do exactly what he does. He has an insatiable appetite for it.
"For a man of his age, to still have that resourcefulness and commitment to the job, you've got to admire him for it. I don't know how he does it at times.
"There were people at Fifa who acted improperly and have been found. Thankfully many of those people have now gone from the organisation. Where Sepp Blatter made a big mistake was he didn't remove people quickly enough from powerful positions if they were found out to be acting improperly.
"But Fifa has made big changes and these people have been dealt with. There have been vast improvements in the structure of Fifa. But there are some people who will say it's too little, too late. The legacy of what went on, sadly, will be there for some time to come."
Alexandra Wrage, President of Trace International - 'A sense of impunity'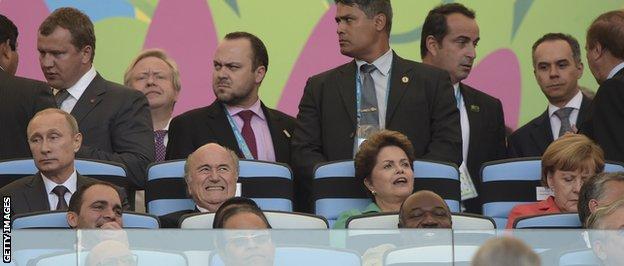 Wrage is a leading expert on anti-bribery and corporate governance reform. She was appointed to Fifa's independent governance committee in 2011, but resigned in protest in 2013 believing Fifa had failed to adopt appropriate measures.
"He has a sense of impunity, his sense that if he's doing it his way then it is, almost by definition, acceptable. His attitude towards me changed very quickly. I was told that he started referring to me as 'that woman'.
"At the first lunch I had at Fifa I had a conversation with Sepp Blatter about the power and the independence of his position. And he said to me, 'You have to understand I'm the only man who can arrive in any country, without any protocol, and be received by the head of state.'
"I thought at first it was just a terribly arrogant comment but, when you think about it, it is probably true. From the Vatican to Washington DC, when the United States was interested in hosting a World Cup, he is received by heads of state and the red-carpet is rolled out for him wherever he goes.
"Fifa is almost a supra-political organisation - it's above states and he's very conscious about that.
"You can't live like that - with this closed-loop, inner circle of advisors, who affirm you in your beliefs and the adoration the world has for this sport, if not the organisation - and not have that go to your head.
"A leader of any organisation has to take responsibility for everything that happens on their watch.
"And there have been more scandals and problems and public dismay over how Fifa has been run on his watch than any other organisation. A CEO of a corporation would have been shown the door long ago. So if he's judged by results, and I think a leader should be, then he's done an appalling job."
Jerome Champagne, former Fifa executive 1999-2010 - 'A Machiavellian leader'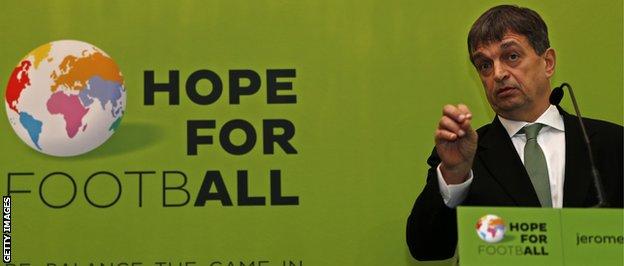 A former French diplomat, Champagne ran in the 2015 Fifa presidential election race but failed to secure enough nominations to stand.
"He is the ultimate intelligent and, some say, Machiavellian leader. Machiavellian is not a defect though, it's a quality. It's needed to survive in that environment for so long.
"If you look at what he has achieved in 40 years, you need a strong character and you need a very strong capacity to stomach criticism, some of it unfair.
"Europe has the best club football in the world. But where would European club football be today without the players from Africa, South America, Central America and Asia?
"It's therefore about sharing the benefits equitably from the globalisation of the game. Fifa is needed to govern the game, to redistribute its wealth and to correct the inequalities we've inherited from history. Mr Blatter understands that and rightfully has created a regulating and redistributing entity.
"In a real democracy the person winning the election gets to appoint his or her Cabinet. That's not the case in Fifa. If we want to change Fifa then we need to avoid Blatter bashing. It's not that simple.
"You need a strong character. I admire his vision - football is the sport of the people. Our little planet needs a strong governance, one which respects everyone."
Guido Tognoni, former Fifa and Uefa executive - 'He wants to die in the job'
"If you are in the Fifa Congress you get the feeling that you are in a sect. The big man in front of you, uniting the people, who speaks about the enemies, the bad media, the bad reports.
"You cannot look forward, you cannot understand the future, if you do not analyse the past. And Fifa's past is really bad. Whenever you hit on an internet search of Fifa you see scandal, corruption, bad reputation. And this, whether he is guilty or not, is bound to the name of Sepp Blatter. He is the president and it's his responsibility.
"I think his wish, and I don't want to be too cynical, is to die in his job."
You can listen again to BBC Radio 5 live's "There's Only One Sepp Blatter" podcast here.