Fifa 16: EA Sports game to feature women for first time
Last updated on .From the section Women's Football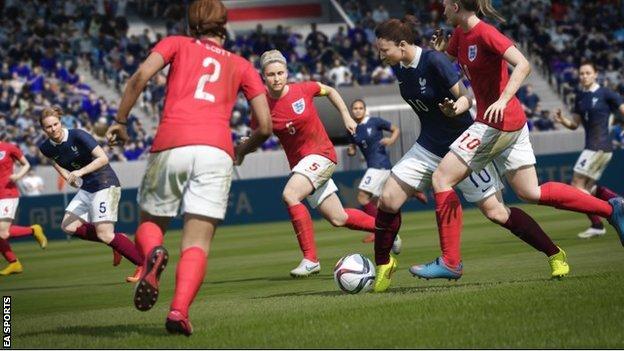 International women's teams will feature in football video game Fifa 2016 for the first time in its history.
England captain Steph Houghton and her team-mates have been included with 11 other women's sides for play in one of several game modes.
Until now only men's teams have featured on the popular EA Sports game which was first released in 1993.
"To be one of the first female players included is something we'll always be able to look back on," said Houghton.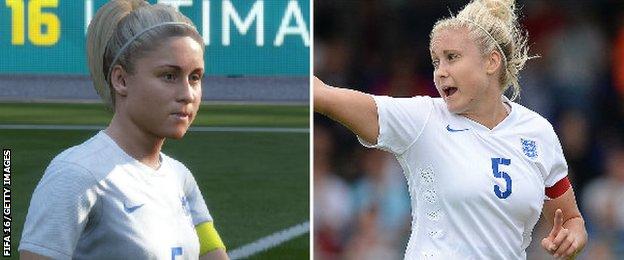 "Hopefully it will help raise the profile of the women's game even further," added the 27-year-old Manchester City defender.
The women's teams on Fifa 16
Australia, Brazil, Canada, China, England, France, Germany, Italy, Mexico, Spain, Sweden, and the United States of America
Houghton will lead her country to the summer World Cup, beginning on 6 June in Canada, with England to meet Colombia, France and Mexico in their group.
But will Fifa-16 designers give the England players the skills in a virtual reality setting that they showcase in real life? Will Houghton be rated as a good technically on a computer game as she hopes?
"Quite a few of us in the team play Fifa so I'm sure there will be a bit of banter about our ratings. I'm looking forward to scoring as myself for the first time," she added.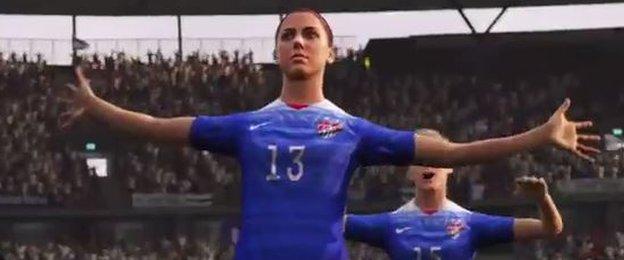 Fifa 16 designers used American striker Abby Wambach - the top international goalscorer of all time with 170, according to her national team's website - to record the typical movements of a female footballer and players have been head scanned in order to create a lifelike look ahead of the September release.
The England players were scanned at St George's Park in February.
Eniola Aluko told BBC Sport: "I think it shows where the [women's] game's going in terms of how fans can engage with us in a game. It's really cool although it's a bit weird to do all pictures and facial expressions but it will be nice to see how it will all turn out.
"My little brother will be very excited to play me on Fifa. He'll find it fascinating. I'm excited to see his reaction."
"Bringing some of the best women's players and teams in the world to our franchise is a massive event for EA Sports," said David Rutter, vice president and general manager of EA Sports.