Kimberley Woods wins European Canoe Slalom title in Germany
Last updated on .From the section Canoeing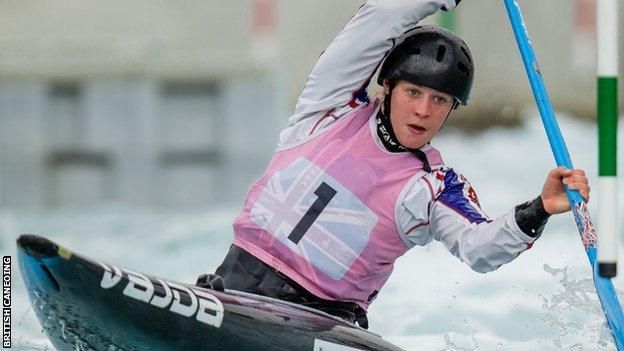 British slalom canoeist Kimberley Woods has won the European C1W single title at the Canoe Slalom European Championships in Germany.
Woods, 20, beat team-mate Mallory Franklin by nearly three seconds as Britain registered a one-two finish.
And Britons Rachel Cawthorn, 26, and Louisa Sawers, 27, won a silver and bronze respectively on day two of the Sprint World Cup 3 in Copenhagen.
Cawthorn was second in the K1 500m A kayak, Sawers third in the K1 1000.
New Zealand's Olympic Champion Lisa Carrington, 25, finished less than a second ahead of Cawthorn in Denmark.
After her European title triumph, Woods said: "I knew I had the skills and the speed to do well here, but it is a very technical course and any one of the 10 girls in the final could have won.
"I hope I can build on this and go on to do well at our home World Championships at Lee Valley in September."
London 2012 Olympic Champion Ed McKeever won his K1 200 semi-final to qualify for Sunday's A final in Copenhagen.
And Banbury's Hannah Brown qualified for Sunday's K1 200 women's final after finishing second in her semi-final in cold and windy conditions.
London 2012 Olympic K2 200 Bronze medallists Liam Heath and Jonathan Schofield, meanwhile, reached the A final after winning their K2 200 heat.