Gateshead: New owners Richard and Julie Bennett hold league aim
Last updated on .From the section Football
New co-owner Richard Bennett wants to continue Gateshead's push for the Football League, following the purchase of the club from Graham Wood.
Bennett completed the deal on Tuesday evening, along with his wife and business partner Julie.
Gateshead reached the Conference promotion final in 2013-14 but missed out in 2014-15, finishing 10th.
"We want to maintain that budget level, we want a strong push for promotion," Bennett told BBC Look North.
"We'd love to do that by winning the league rather than the play-offs.
"It comes down to the manager, selection of players and we are pretty optimistic we can build a good solid team for the future."
The club are currently without a manager following the departure of Gary Mills to Wrexham at the end of the most recent campaign, and the Bennetts have confirmed that outgoing chairman Wood and vice-chairman Brian Waites will have an input in any appointment.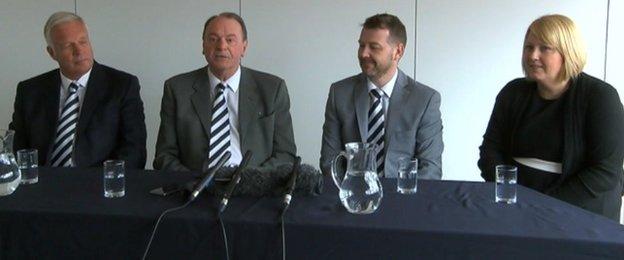 Meanwhile Julie, a fan of the club since her early teens and whose uncle also played for the club, will take on a financial role within the structure of the club.
Wood has left the pair with a debt-free business, albeit with a full-time set-up that Bennett says will be continued.
"Gateshead are on a sound financial footing and we're looking to take that forward," Richard Bennett added.
"I'm a businessman, I want to make the club profitable, and I want to make sure that the club is here for the long term."
Despite completing the takeover of the club, Wood and Waites' experience has been retained in the short-term to ensure a "seamless transfer" of the business.
The Bennetts were Wood's preferred choice of investors, with their Consett-based business maintaining a north-east link with the club.
"It's the perfect scenario," Wood said. "They've gone into it with their eyes open, there's been full disclosure and they've seen the accounts.
"They've seen everything from the last nine years and how it's progressed. They have the enthusiasm and most importantly they've got the wherewithal."