Fifa probe: SFA calls again for Sepp Blatter exit as president
Last updated on .From the section Football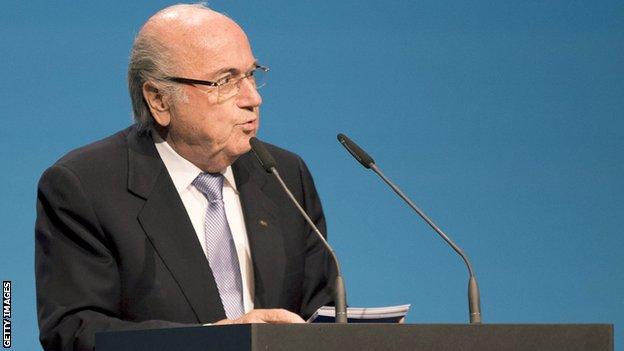 The arrest of seven Fifa officials has strengthened the Scottish Football Association's stance in calling for Sepp Blatter to stand down as the world governing body's president.
Blatter is favourite to win a fifth term in post in Friday's Fifa election.
However, SFA chief executive Stewart Regan said opposing candidate Prince Ali bin al-Hussein is the "only credible candidate".
"There has to be change. There has to be change now," He told BBC Scotland.
Fifa says the vote will go ahead despite the charges against officials.
Swiss police made dawn raids in Zurich, while the Federal Bureau of Investigations raided the headquarters of the Confederation of North, Central America and Caribbean Association Football (Concacaf) in Miami.
Among those arrested is Fifa vice-president Jeffrey Webb, while a separate investigation has begun by Swiss authorities into how the 2018 and 2022 World Cups were allocated.

Should Friday's vote go ahead, the SFA will back Prince Ali bin al-Hussein, Blatter's only remaining opponent after the withdrawals of Dutch FA president Michael van Praag and former Portugal midfielder Luis Figo last week.
"In light of the events of the last 24 hours, all of the 54 associations gathered within the Uefa meeting this morning were of the mind that enough was enough," said Regan.
"In the event that president Blatter is re-elected tomorrow, we will meet again with the other [Uefa] associations in Berlin in a couple of weeks' time
"There are a number of options, an extraordinary congress which would only require a simple majority rather than a 75% majority to try and create change.
"There could, of course, be a rival body. There could, of course, be threats of not participating in competitions. All of these things have been discussed.
"Clearly there needs to be a common and consistent strategy - one that's bought into by all Uefa members. It's too early to speculate what that might be."