Ben Foster: West Brom keeper to support Geoff Thomas challenge
Last updated on .From the section Football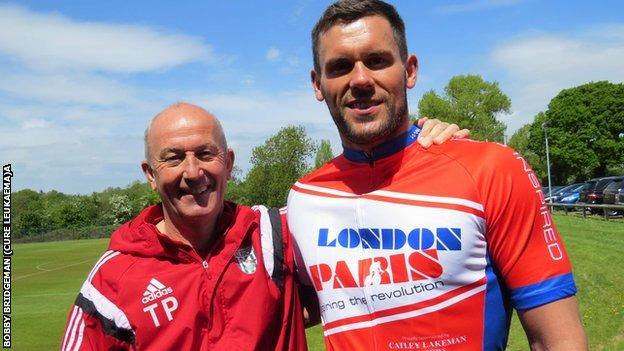 West Bromwich Albion and England keeper Ben Foster is to take part in Geoff Thomas's charity cycle challenge in June as part of his bid to regain full fitness following knee surgery.
He is currently on schedule to return to action for Albion in October.
But the 80-mile-a-day ride for Cure Leukaemia will supplement his fitness.
From London to Paris for Thomas and his friends
Leukaemia survivor Geoff Thomas, 50, played for Rochdale, Crewe, Crystal Palace, Wolves, Nottingham Forest, Barnsley, Notts County and England (nine caps) in a 20-year long playing career. He was first diagnosed with chronic myeloid leukaemia, a form of blood cancer, and given just three months to live in July 2003. Following a stem cell transplant from his sister Kay, he has been in remission since January 2005 and is celebrating the 10th anniversary of that by holding two major cycling events this summer
Thomas's 'London 2 Paris: Inspiring the Revolution' (L2P) cycle challenge runs from 18-22 June. It hopes to raise £1m for Cure Leukaemia. Thomas, who spent four years at Wolves (1993-1997), has vowed to wear the shirt of Black Country rivals Albion if Foster reaches his individual £50,000 target
"I've done my cruciate twice before," said Foster, "So I'm no stranger to sitting on a bike in the gym. Biking is my bread and butter at the moment.
"It gets boring now and then so going out on my bike keeps me going. It gives you a sense of freedom and is a good way to de-stress. But I've never done anything like this before. I have done a couple of 80 kms, and maybe a 100 km, but never 80 miles a day on four successive days.
"I got the cycling bug about two years ago. You can see me out on a random night, cycling around Stratford in the full gear - lycra, everything.
"I'm still aiming to be back playing in October. It's been nine weeks since my operation and everything has gone really well. I don't feel any pain in my knee and the muscles around it are getting strong."