Dundee United back Nadir Ciftci over derby 'bite' allegation
Last updated on .From the section Football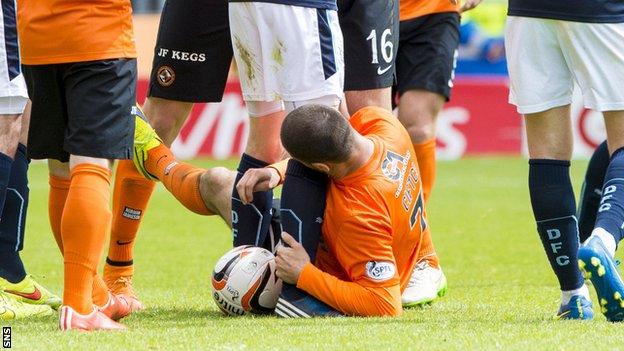 Dundee United say they are "fully supportive" of Nadir Ciftci after the striker was accused of biting Dundee's Jim McAlister.
The Terrors in turn accused Dundee players of "quite severe physical and totally unacceptable verbal provocation" towards their player.
Dundee have yet to comment publicly on Ciftci or United's response.
However, Ciftci is understood to be facing a Scottish Football Association inquiry after McAlister appeared to accuse the Turkish-born forward of biting him towards the end of the final game of the season.
A Scottish Professional Football League video - entitled "Tempers flare in tetchy Dundee derby" - shows McAlister pointing to his leg and shouting to referee Bobby Madden that he had been bitten. A pitchside microphone has been less than 10 yards away.
Ciftci could face an exceptional misconduct charge from SFA compliance officer Tony McGlennan, but a notice of complaint could take some time to materialise.
McGlennan will first need to collate any evidence and view submissions from Madden, as well as Ciftci and his club.
Photographs emerged on social media purporting to show a mark on McAlister's leg.
"The club has interviewed Nadir today as the accusation levelled against him is very serious," United's statement said.
"The player is both surprised and upset by the accusation and, on discussing the matter in detail, it is clear to us that the player has not been involved in any such incident.
"In fact, we commend Nadir for his tolerance on the field given some quite severe physical and totally unacceptable verbal provocation."
Ciftci has received 11 bookings and one red card this season, but he has escaped punishment twice this year after being cited by McGlennan.
The former Portsmouth player successfully challenged bans for allegedly striking Inverness Caledonian Thistle defender Gary Warren with his arm and for kicking Celtic skipper Scott Brown in the head.
Both charges were found not proven by an SFA-appointed judicial panel.
Ciftci could face a lengthy ban if found guilty of any biting charge.
Luis Suarez received a seven-game ban for his first biting offence, on PSV Eindhoven midfielder Otman Bakkal, during his Ajax days.
The Uruguay forward subsequently received a 10-match ban for biting Chelsea defender Branislav Ivanovic and a four-month suspension for biting Italy defender Giorgio Chiellini.