Steven Gerrard will win trophies in MLS, says Jamie Carragher
Last updated on .From the section Football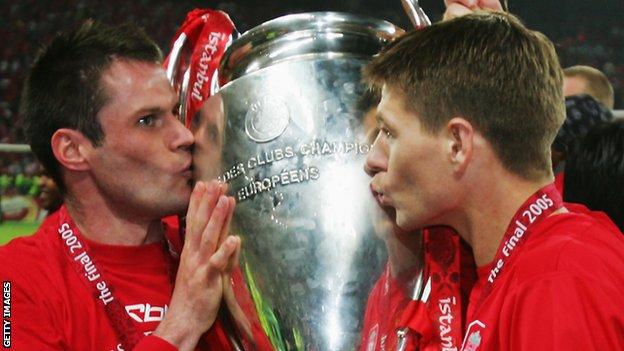 Former Liverpool defender Jamie Carragher believes Steven Gerrard will continue to win silverware when he joins LA Galaxy.
The 34-year-old will move to the Major League Soccer side this summer after lifting 10 trophies at Anfield, including the Champions League in 2005.
Gerrard is moving to a club that have won three of the last four MLS Cups.
"The football will be serious and he'll want LA Galaxy to win the MLS and win trophies," said Carragher.
He told BBC Radio Merseyside: "He'll still be getting judged out there and if he's not performing I'm sure they'll let him know.
"We'll be reading about him doing something in a cup final and taking them to a trophy - he's done that throughout his career and it's not going to change now."
After more than 700 appearances for Liverpool, the former England captain scored his 186th goal in his final appearance for the Reds as they lost 6-1 at Stoke on Sunday.
When asked about where Gerrard compares in terms of the best ever Liverpool players, Carragher added: "He's right up there at the top.
"There's always a toss up between him and Kenny Dalglish. There's no doubt the opinion will be split down the middle and you couldn't argue either way.
"Liverpool have lost great players before and great players will come again. A player as good as Stevie? It's almost impossible to replace that. Steven is the type of player that only comes around every 30 years."
BBC Radio Merseyside will broadcast a special documentary 'Gerrard - The leaving of Liverpool' at 1900 BST on Tuesday, 26 May and you will able to listen again to the show on the iPlayer.