Koeman? Monk? Mourinho? Who is Savage's manager of the year?
Last updated on .From the section Football

In his regular BBC Sport column, Robbie Savage reveals his choice as Premier League manager of the year, and who deserves a mention for steering their side to success this season.
The League Managers' Association will announce the winner of its Manager of the Year award on Tuesday.
In reverse order, here are my top five Premier League managers for the 2014-15 season, and who I think should pick up the prize.
5. Mark Hughes, Stoke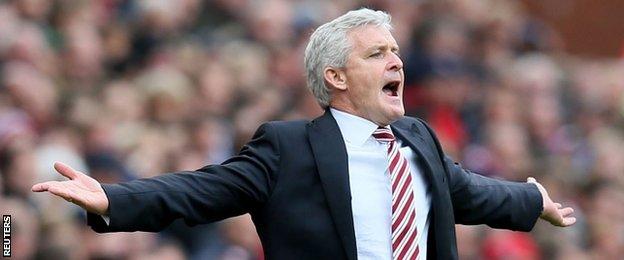 There is some tough competition for a place in my top five, and Tony Pulis and Alan Pardew both only just miss out.
Pulis can add keeping West Brom in the Premier League to his list of achievements and the reason he has still not been relegated in his 23-year managerial career is because he got the best out of a limited squad.
Pardew inherited some much better attacking players when he took over at Crystal Palace on 3 January, but he still had to get the balance of his side right.
The Eagles' rise from the relegation zone to mid-table has been impressive and, for further proof of what a good manager he is, you only have to look at Newcastle's slide since he left.
When he was Magpies manager, I wrote in this column in September that Pardew "sounded like a broken man" and that I did not see him lasting long in his job.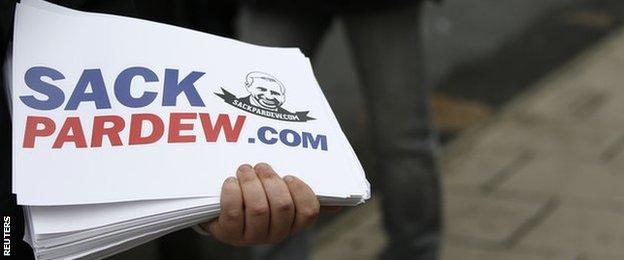 I was wrong on both counts, of course, because he left of his own accord.
When he did, he had already picked up 72% of Newcastle's current points tally in 19 games, and he has since won 62% of Palace's points this season in just 17 matches.
Pardew has not quite kept two sides up this season, because the Magpies could still go down, but he has gone a long way towards it.
However, it is my former Wales and Blackburn manager Mark Hughes who gets my vote for his work at Stoke.
Hughes and his Potters players have gone under the radar for most of the season, mainly because they have never been in any sort of danger of facing the drop.
But he has just steered Stoke to a second straight top-10 top-flight finish for the first time in 40 years.
That is with a net spend of around £6m in the four transfer windows since he has been at the Britannia Stadium.
Hughes has also been without his best player, striker Bojan Krkic, since he was ruled out for the season by injury in January.
He has not been given the credit he deserves and I also think he is ready for another big job. When he was at Manchester City, he was not given enough time.
Did you know? Mark Hughes has just broken Stoke's Premier League points record with the 51 points he has picked up so far. Their previous best was 50, under Hughes when they finished ninth in 2013-14.
4. Garry Monk, Swansea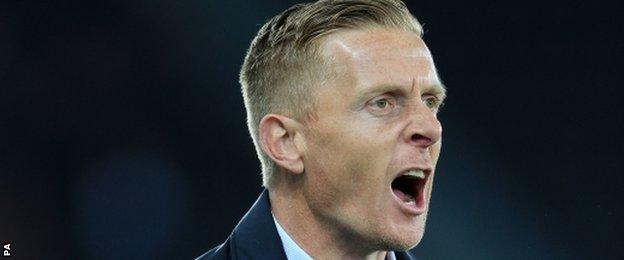 Another manager who I thought would struggle - twice in fact.
At the start of Garry Monk's first full season as a manager, I saw him spending it fighting the drop.
Then, when Swansea sold Wilfried Bony to Manchester City in January, I thought they would fall away.
But they have stayed in the top half of the table all season, playing some exciting and attractive football and proving they can attack with pace as well as keep the ball well.
Monk has definitely made his mark with this team and the only question I have is where he and they go next after finishing eighth this season.
It is almost impossible for the likes Swansea to break into the top six. At the moment I think seventh is the best they can hope for, and I don't see that changing anytime soon.
Did you know? At 36, Monk is the youngest manager in the Premier League and also the one with least managerial experience, having spent less than 16 months in the job. He has already guided Swansea to their highest finish and their best ever points tally in the Premier League.
3. Ronald Koeman, Southampton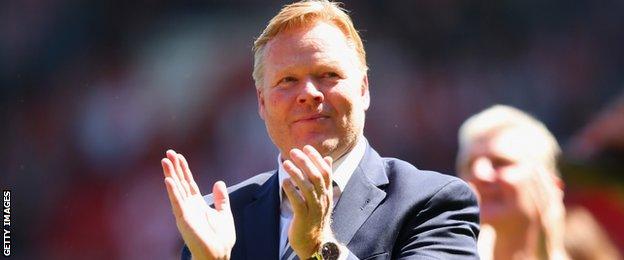 Koeman's tweet of a photo of an empty training pitch at the end of July summed up the situation he faced when he took charge.
Saints had lost their manager and many of their star players. I tipped them to be relegated before they signed any replacements and, even when they did, I still thought they would struggle.
Plenty of teams have started the season surprisingly well before now, but very few of them are still around the following spring.
That is what made Koeman different. His team stayed there, and were in contention to qualify for the Champions League with 10 games to go.
Yes, they faded in the run-in before thumping Aston Villa 6-1 last weekend, but they have spent more days in the top four this season than Arsenal, and Koeman should be proud of his first year in English football.
Days spent in the top four 2014-15

Team/Days

1.

Chelsea

278 out of 280

2.

Man City

263

3.

Man Utd

193

4.

Southampton

143

5.

Arsenal

122

6.

West Ham

47

7.

Swansea

31

8.

Aston Villa

29

9.

Tottenham

7

10.

Liverpool

6

11.

Hull

1
Did you know? Only Burnley (4,297km) and Tottenham (4,219km) have covered more ground than Southampton's players in the Premier League this season. Between them, the Saints squad have run 4,181km, an average of 113km per game.
2. Nigel Pearson, Leicester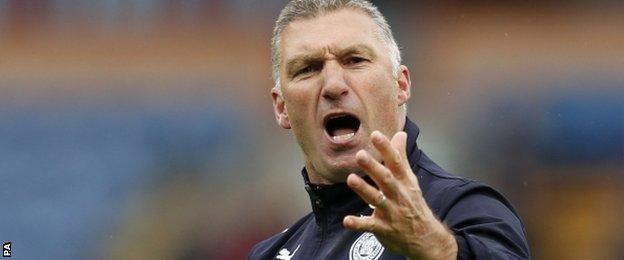 Nigel Pearson is the only Premier League manager whose season has featured ostriches, altercations with fans and opposition players and at, one stage, reports he had been sacked.
But his achievement in keeping Leicester up is the thing his campaign will be remembered for most of all.
Pearson did it the hard way - his side spent 140 days bottom of the table, which is more than anyone else.
Days spent bottom of the table 2014-15

Team

Days

1.

Leicester

140 out of 280

2.

Burnley

68

3.

QPR

50

4.

Newcastle

20

=5.

West Brom & West Ham

1
But he also did it by being brave with some attack-minded team selections and through some inspired work in the transfer market.
Esteban Cambiasso was one of the signings of the season in midfield and, at the back, Robert Huth made a massive difference when he arrived on loan from Stoke in February.
Leicester with and without Robert Huth

Premier League

With

Without

Games

13

24

Wins

6

4

Defeats

4

15

Average goals against

1.2

1.6

Win %

46%

17%

Points per game

1.6

0.7
It all came together for Pearson in the end, and his side's late run of 19 points from eight games really was amazing.
Did you know? Pearson became the third manager to lead a team to safety who were bottom at Christmas. Bryan Robson (West Brom 2004-05) and Gus Poyet (2013-14) were the others. Pearson was Robson's assistant when the Baggies beat the drop.
1. Jose Mourinho, Chelsea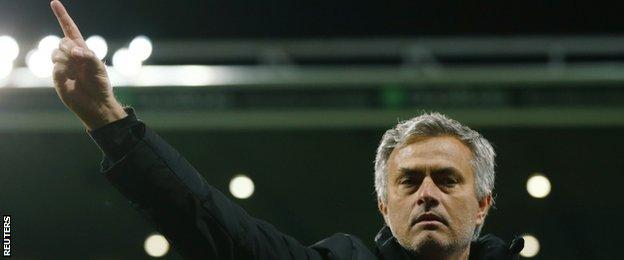 The managers listed above are in the same division as Jose Mourinho but, really, he and Chelsea are in a different league.
While their pre-season targets were to either stay up or, at best, finish seventh, Mourinho had to win the league.
He ended up doing so by a huge margin, blowing his rivals away despite them all spending heavily to try to stop him.
Mourinho got the transfer market right, and got his tactics right, again. That is why he is celebrating his third Premier League title in five full seasons in England.
People call his teams boring, but I call him a winner.
They beat teams by playing attractive football or dull football, basically whatever it takes to get the job done.
That makes him the master. He is the best manager in the country and he will be the man to beat next season too.
Did you know? Monday's defeat by West Brom was only the fourth defeat that Chelsea have suffered in 53 games in all competitions this season. The Arsenal 'Invincibles' team of 2003-04 was unbeaten in the Premier League but lost six times in total that season (in 59 games), while Manchester United's treble-winners of 1998-99 currently hold the record for the fewest defeats in a season in the Premier League era, having lost five times during that campaign (in 63 games).
Robbie Savage was speaking to BBC Sport's Chris Bevan