Lucy Staniforth ready for Liverpool start after long-term knee injury
Last updated on .From the section Women's Football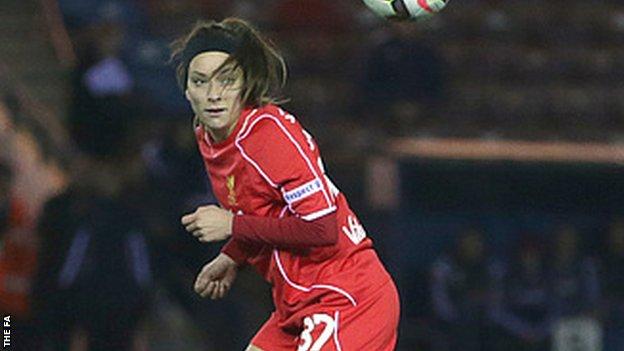 Midfielder Lucy Staniforth believes she is ready to make her first competitive start for Liverpool after recovering from a long term knee injury.
Stainforth had just returned from similar damage to her other knee when the fresh injury occurred.
"It's been a difficult two years," she told BBC Sport.
"There have been times when I've been very doubtful about my progress, it wasn't very nice. I never saw this day coming."
The central midfielder has made three substitute appearances for Liverpool this season and is now looking to force her way into the starting line-up.
"The more matches I play, the more comfortable I become on the pitch and I definitely feel like I'm getting back to my best.
"Hopefully by the time the second half of the season comes, I'll be fitter than ever and hopefully a big player for Liverpool," she said.
The former Sunderland and Lincoln Ladies player had just signed for Liverpool from Bristol Academy when she suffered the second ACL injury in training and admits she thought it could end her football career.
"It had crossed my mind, I'd be lying if I didn't say that. Having done it twice, you think is it not meant to be?" she explained.
Staniforth recently received a call up to the England Under-23 squad for the Nordic tournament being held in Norway at the end of the month.
She said: "It was definitely a big surprise for me seeing as it's been so long since I'd last been with the Under-23s. I couldn't stop smiling and it sounds really cheesy, but it meant so much to me."
Two-time champions Liverpool have had a mixed start to their Women's Super League One season and are only fifth after taking six points from their opening five matches.
Staniforth is desperate to help the team move up the table and show the club's fans how good she can be.
"For them, it must have been frustrating signing a player and then not getting to see that player for over a year," she added.
"I'd love to get in that starting 11 for Liverpool and make a difference and have a really positive second half of the season."