Dundee United's Stephen Thompson pursues Jets deal

Last updated on .From the section Football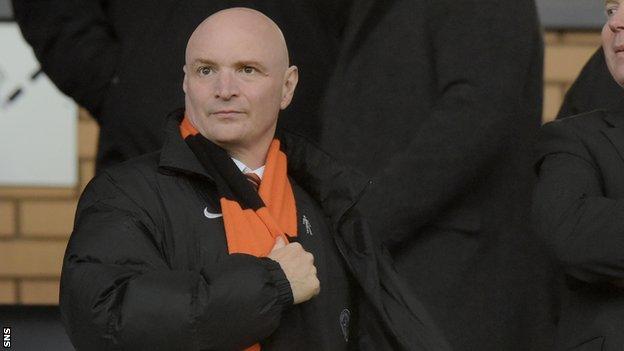 Dundee United chairman Stephen Thompson remains keen to take control of Newcastle Jets despite the A-League club being placed in administration.
But the Football Federation of Australia has revoked Tinkler's ownership licence for the club.
And the governing body has held talks with Thompson about the sale of the Jets to the consortium the Scotsman is heading up in the takeover bid.
The FFA says it plans to have a new owner and chairman in place for next season and has guaranteed the players' wages meantime.
Thompson, as part of the consortium, had further talks on Wednesday as Tinkler placed the club in voluntary administration with debts of around £1.4m.
The consortium is understood to be offering around £2.52m for the Jets.
Distancing themselves from the deal, United stressed on their website that "this is a personal venture for the chairman as part of a consortium".
And Thompson said: "Whether or not I pursue opportunities in Australia, I clearly have a major emotional tie here, which my sister Justine shares with me as a board member, and we are fortunate to have a board made up of people of varying skill sets who have the best interests of Dundee United at heart and the expertise to take the club forward."

Thompson insisted that the bid would not affect the development of United.
"The board and I remain focused on matters here," he said.
"It's not unusual for football club board members to have other business interests and I'm no different.
"There are confidentiality agreements in place regarding the situation in Australia that stop me going into further detail.
"But I want to make it clear that my priority first and foremost is to Dundee United as chairman and a supporter of the club."
It is understood that Tinkler put the Jets into voluntary administration after failing to pay Newcastle's staff and players wages on 15 May.
FFA chief executive David Gallop issued a statement on Jets' website insisting that the "sudden news" that the club had gone into administration did not affect the club's place in the A-League.
"Football Federation Australia has decided to start a new Hyundai A-League club to represent the city and Northern NSW," he said.
"Next season, the club will retain the same name, colour and logos as existed in the past. The club will play at Hunter Stadium.
"In the next few weeks, I will announce how the new club will engage with the community. We will carefully listen to your views and those of other important stakeholders."