Newcastle fans plan to 'occupy' St James' Park after West Ham game
Last updated on .From the section Newcastle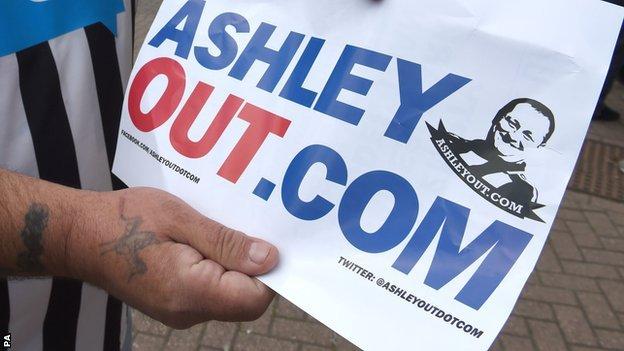 Newcastle United fans are planning to occupy St James' Park after the final Premier League game against West Ham in protest against owner Mike Ashley.
The Magpies, in 17th and without a victory since 28 February, could be relegated if they fail to win.
The AshleyOut.com group said they "will continue to occupy the ground" after the final whistle whatever the result.
Manager John Carver said: "They can do what they want to do, but for 90 minutes get behind the team."
Ashleyout.com have also organised other protests against the owner in recent weeks, which included a fans boycott of the home game against Tottenham in April.
Meanwhile, head coach Carver, who took over from Alan Pardew in December, said Sunday's match was the "biggest in six years at this football club", referring to the game against Aston Villa in May 2009, when defeat consigned the Magpies to relegation.
As a result, he said he has imposed a media blackout on his players to prevent them from losing focus on the task ahead.
"I have had a chat with the guys and said try and stay off social media, stay off Twitter, keep off the internet," said Carver.
"If you take your eye off the ball you get punished, and we've got to keep our focus sharp.
"It's still in our hands, and if you want it enough then you can do something about it."
Newcastle are one place and two points above the relegation zone going into the game against the Hammers.
If they lose or draw and third-from-bottom Hull beat Manchester United, with Sunderland getting a point from their remaining two games, the Magpies will go down.
Many supporters are angry at Ashley's running of the club and some have criticised his ambition.
Newcastle revealed they had more than £34m in cash assets in April, while they also announced a record annual profit of £18.7m for 2013-14 in March.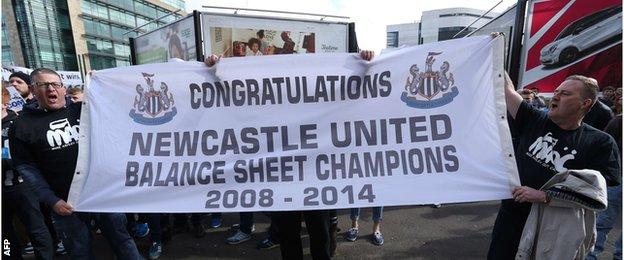 However, the club spent nothing in January's transfer window and have lost nine of their last 10 league matches under Carver, earning just one point in the process.
Thousands of Newcastle fans appeared to have boycotted their Premier League defeat by Tottenham on 19 April. The official attendance for the game was announced as 47,427, while their average home attendance this season is 50,834.
"Bring your flags, bring your banners and most importantly bring your voices," said fan-run website AshleyOut.com.
"Together we will make it clear that enough is enough and demand that the man ultimately responsible for the club's demise into mediocrity, Mike Ashley himself, puts the club up for sale with immediate effect.
"We have no specific protests planned to take place during the game so as not to disrupt the outcome in any way, shape or form."