Raheem Sterling: Liverpool should not be held to ransom over forward

By Phil McNulty
Chief football writer
Last updated on .From the section Football825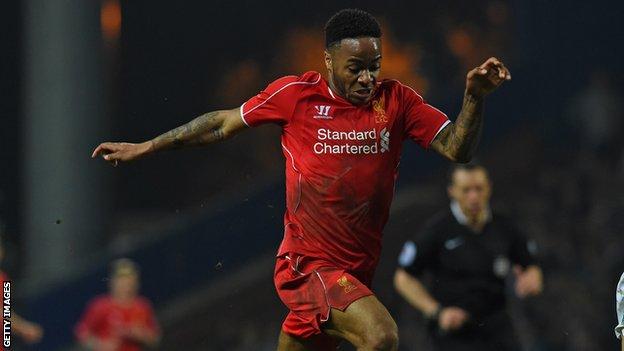 Raheem Sterling's fragile relationship with Liverpool may be broken beyond repair when he tells manager Brendan Rodgers he wants to leave Anfield when they meet later this week.
Liverpool have always been steadfast in their determination to keep Sterling despite the 20-year-old's obvious and public reluctance to sign a new deal worth £100,000-a-week.
Sterling, it seems, is equally determined to leave in a development which will come as another bitter blow to Liverpool as they recover from the impending departure of captain Steven Gerrard to LA Galaxy and the collapse of a season that saw them lose to Aston Villa in an FA Cup semi-final and fail to reach the Champions League.
So is Sterling right to want to leave? And why should Liverpool and Rodgers be held to ransom by a youngster, albeit a talented one, who still has so much to prove?
Why would Sterling want to leave?
Sterling and his camp have insisted all along that the contract impasse that has provided a sideshow to the concluding weeks of Liverpool's season has not, and never has been, about money.
It is a version of events that has been treated with open suspicion by Liverpool's supporters but if this is the case - and we must take Sterling's words at face value - why would he want to leave?
Real Madrid-bound?
"Sterling is a name that would cause mild curiosity at the Bernabeu rather than any sense of excitement."
Sterling states his wish is to play his football at the highest level, presumably Champions League.
Liverpool would be within their rights to point out to Sterling that he had Champions League football at Anfield this season and hardly excelled as they went out at the group stage - and more consistent form on his part may have even resulted in a place in the Premier League's top four and qualification next season.
Europa League football is not the stuff of glamour but Sterling has plenty of time to put that right at Liverpool, so has his head been turned by the departures of world-class talent such as Luis Suarez and Gerrard?
In an exclusive interview with BBC Sport recently, he said: "You really want to be working with world-class players day in, day out. It's obviously left a little dent with these two world-class superstars leaving but I think we have good players coming through."
Not enough, it seems, to want to give Liverpool another season.
What does this mean for Liverpool?
Initially it will be a blow, coming hard on the heels of those end of season disappointments - but Rodgers and owners Fenway Sports Group have a key factor in their favour.
Sterling is liked but not loved at Liverpool and even that goodwill has been eroded in recent times. He does not have the status or stature of an Anfield superstar and if he departed, it is unlikely to be a cause for widespread mourning among fans.

Liverpool's supporters would back Rodgers and FSG for taking a firm stand and ordering Sterling to stay - and the vast majority would also accept the Anfield hierarchy taking a decent offer for a player who is gifted but by no means the finished article.
The loss of any talented player, especially a young England international, is not welcome at a club with Liverpool's scale of ambition but this would not be regarded as a departure in the category of a Suarez or a Gerrard. Not in the same league.
How will Liverpool's fans react?
It would not cause a crisis at Liverpool.
Do not expect an outpouring of grief if Sterling leaves or any rage aimed in the direction of Liverpool's owners and manager.
Liverpool's fans would accept the loss and move on. They would also be happy for Sterling to stay but he would have a lot of making up to do.
There has been growing discontent regarding Sterling from Liverpool's fans when he has not delivered in recent weeks and the initial reaction on social media when the news broke veered from anger at his perceived disloyalty and greed, to supreme indifference as to whether he stays or goes.
If he stays, Liverpool's supporters will live with it, even though he will have work to do to make up the goodwill he has lost, and if he leaves it is unlikely any tears will be shed, especially if Liverpool can rake in around £35m.
Could Liverpool have done any more?
Other than offering Sterling a contract worth £100,000-a-week and delivering the chance to flourish as a first-team regular, in a team that almost won the Premier League last season, what else could they have given him?
Manager Rodgers even allowed Sterling to take a mid-season break in Jamaica to recharge his batteries and guard against any burnout later in the campaign.
Liverpool's contract offer seems more than reasonable for a player at this stage in his career.
It would seem, then, that Liverpool's failure is not qualifying for the Champions League or some hitherto hidden breakdown in his relationship with Rodgers.
Sterling has played his part, or not, in Liverpool not making the top four and it is hard to see how Rodgers could have treated him any better.
There is no mileage in Sterling suggesting he has not been protected from negative headlines by Liverpool, as the most eye-catching publicity and biggest reaction came from an interview with BBC Sport's Natalie Pirks - an interview he conducted without the club's permission.
Has Sterling let Rodgers down?

Rodgers will be disappointed by Sterling's demand to leave and he will feel a genuine sense of disappointment after nurturing the youngster and giving him his chance of regular football as a teenager.
He has always steered clear from criticising Sterling amid the negative headlines around his contract, instead questioning the advice he has been receiving from his representatives.
Rodgers may feel let down at getting the word from Sterling about his desire to leave Liverpool - but being a realist he may have sensed it was coming.
Where could Sterling go?
If Liverpool do agree to sell, and this is not an inevitability, then it is hard to see any serious interest from the sort of names abroad that would interest either Sterling or his representatives.
Barcelona are well catered for with a superstar attacking trio of Lionel Messi, Suarez and Neymar, so the idea of a move to the Nou Camp comes from the realms of fantasy.
Zinedine Zidane, who is on the coaching staff at Real Madrid, says they are "monitoring" Sterling but he is hardly the sort of 'Galactico' figure they will be looking to as they recover from failure to win La Liga and losing their hold on the Champions League following defeat by Juventus in the semi-final.

Sterling is a name that would cause mild curiosity at the Bernabeu rather than any sense of excitement.
Bayern Munich have been mentioned but, again, is Sterling a big enough name, or advanced enough as a talent, to go to the Allianz and make the difference?
This leaves the Premier League - namely Manchester City, Chelsea and Arsenal.
City are looking to revive their squad with young talent, with manager Manuel Pellegrini saying they may focus on English names, while Sterling fits the template Arsenal would look for, especially if Theo Walcott cannot agree a new contract.
Would Mourinho want Sterling? A possibility but, again, would he fit into a line-up alongside Eden Hazard?
Manchester City look likely candidates but would they be persuaded to part with the £35m - or even more - Liverpool would want?
So many questions to answer.
How will it all end?
One thing is certain. Liverpool owner John W Henry will not be bounced into a sale, bullied by requests to leave or held to ransom by Sterling and his representative Aidy Ward.
Nor should he be.
Henry demonstrated he can be intransigent when Suarez tried to engineer a move to Arsenal in 2013. He stood firm, refused to sell and eventually Suarez came back into the fold with spectacular results.
Sterling, however, is not a Suarez. Henry, in conjunction with Rodgers and the rest of the Liverpool hierarchy, may regard this as a different case and one where a big offer may be worth considering.
It will be played out over the coming weeks but if Sterling goes it will be on Liverpool's terms - and if he stays he has work to do to repair his relationship with those who make the final judgement at Anfield, namely the fans.