Steven Gerrard: Liverpool get taste of life without iconic captain

By Phil McNulty
Chief football writer
Last updated on .From the section Football468
If Steven Gerrard's final 90 minutes at Anfield was designed to be a tribute to what Liverpool will miss from a player and personality who has eclipsed all others in their recent history, this did the job to perfection.
Not, however, in a good way.
The 34-year-old's last game was bookended by the fanfare, ceremony and outpouring of emotion deserved for Liverpool's iconic captain, as the bond he has forged with the club's support over 17 years prepares to be severed by his move to Major League Soccer with LA Galaxy.
Gerrard was feted before the start and at the end of the 3-1 loss to Crystal Palace - in between Anfield was occasionally reduced to stony silence by the sort of Liverpool display that was the equivalent of turning ice-cold firehoses on the warmth of a special occasion.
When Gerrard, backed by his Liverpool colleagues wearing a collection of his famous number eight shirts, issued an optimistic message to followers hanging on his every, understated word, it was hard not to be distracted by the cold reality.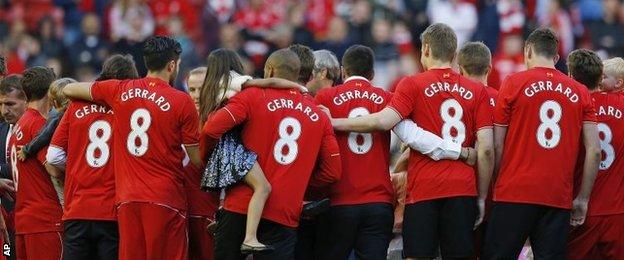 If this was Liverpool with Gerrard, even a Gerrard very much past his best and timing his exit to perfection, then there will be some tough and transitional times ahead without him.
How do you replace an icon?
Who will be Liverpool's leader when Gerrard is gone? Jordan Henderson has been talked about as his heir to the captaincy but on occasions he has looked to be trying too hard to be that man. It does not look a natural fit.
As Liverpool manager Brendan Rodgers rightly said, Gerrard is irreplaceable. But he somehow has to try to find a replacement, not just for those inspirational moments and goals but also as the driving force and character that can make his colleagues dig deep when it gets tough.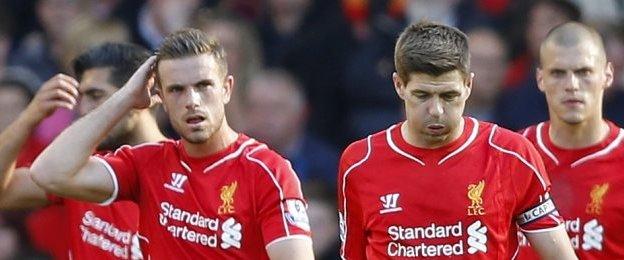 Liverpool have talked about focusing more on quality than quantity in the markets this summer but the closing weeks of what has ultimately been a disappointing season has perhaps informed Rodgers that he needs to strengthen in several areas.
Dejan Lovren, mentioned as that potential leader when signed from Southampton, has been desperately poor and looked shot to bits by the final whistle, run ragged by the pace and power of Palace's attack, with the outstanding Yannick Bolasie as its focal point.
At £20m, Lovren's signing looks more like an act of grand larceny from Southampton than a transfer deal.
A Gerrard replacement is the obvious vacancy in midfield - although unless someone very special can be acquired it might be worth leaving the number eight shirt vacant for a while - and it is blindingly obvious how short they are in the striking department.
Daniel Sturridge's fitness cannot be relied upon and Liverpool's recruitment needs a sure touch they have failed to show on too many occasions in the last three seasons.
With Mario Balotelli only gainfully employed writing public letters of praise to Gerrard as opposed to troubling Liverpool's starting line-up and poor Rickie Lambert looking out of his depth at Anfield, it is now clear that if the club's transfer committee had actively set out to sign two players who were as unlike Luis Suarez as humanly possible, they could not have done a better job.
The Sterling conundrum
Raheem Sterling has had colleagues and ex-Liverpool players forming an orderly queue giving him advice about his current contract impasse - with the unanimous verdict that he should accept the £100,000-a-week on offer and sign a new deal.
Whether this cuts any ice is another matter but the lengthy debate about his future has had an impact on the attitude of Liverpool's fans towards him.
Anfield's groans were audible on several occasions when things went wrong for Sterling on Saturday - a sharp contrast to the applause of Liverpool's fans when Palace's man of the match Yannick Bolasie was substituted late on.
If you were looking for a £100,000-a-week player between those two on this evidence, Bolasie was your man.
Sterling was off the pace and listless while Liverpool could not cope with Bolasie's potent mixture of pace and raw power that left Liverpool a bag of nerves. He was devastating.
Liverpool's youngster is clearly a work in progress and the last few weeks have suggested he is nowhere near the £50m player some have suggested. Indeed, there would surely be a temptation to accept such an offer.
Logic suggests he is better placed staying at Liverpool to continue his development - and repair a relationship with fans that is showing signs of fractures.
What next for Rodgers?
A busy summer. There appears no doubt over his position - nor should there be as the man who almost brought Liverpool's first title for 24 years 12 months ago.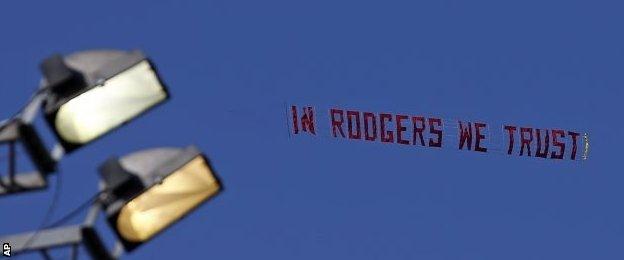 Rodgers, however, must get his transfer dealings right this summer and for this he might suggest to owners Fenway Sports Group that Liverpool's transfer strategy is tweaked to perhaps override the flawed and failing transfer committee and give the manager absolute power on the top-class starters they need.
It will, of course, be more difficult to attract them in the Europa League than the Champions League but the name of Liverpool Football Club will always count for something.
And finally... Gerrard
It was goodbye to a club legend as Gerrard touched the famous "This Is Anfield" sign for the final time.
Amid a blitz of Gerrard-themed tunes on the Anfield playlist from Liverpool's resident DJ, one was REM's jaunty "It's The End Of The World As We Know It".
Over-dramatic perhaps - but Anfield and Liverpool will not be the same for some time as Liverpool's fans saluted the man who has given them some of the days and nights of their lives.