Nigeria re-introduces code of conduct for players and officials
By Oluwashina Okeleji
BBC Sport
Last updated on .From the section Football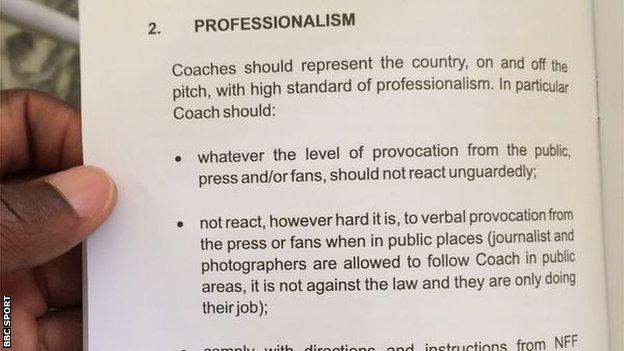 Nigeria has re-introduced a code of conduct designed to ensure players and officials adhere to same set of rules while representing the West African country.
The code has been devised by the Nigeria Football Federation (NFF) and the 18-page document spells out the obligations of the football authority, coaches and players called up to the national team at all levels.
It also sets forth expected standards of behaviour for all players and makes it clear that violations could result in disciplinary action, fines, suspensions or even expulsions.
An attempt to introduce it ahead of the 2014 World Cup in Brazil was met with stiff resistance from players.
But the NFF is desperate to avoid a repeat of the bonus rows that led to players boycotting training at last year's World Cup in Brazil, and before that almost caused the Super Eagles to miss the 2013 Fifa Confederations Cup.
"In the interest of the nation and as a means of regulating the conduct of players and officials representing the country at any point in time, the NFF executive committee endorsed a proposal for all players and officials of the National Teams to sign a Code of Conduct," the NFF said in a statement.
"Starting with the contingent to the Fifa U-20 World Cup in New Zealand and the Fifa Women's World Cup in Canada," it added.
The delay in paying agreed bonuses upset Nigeria players so much that they came within a whisker of boycotting their game against France in the last 16 of the 2014 World Cup.
Nigerian President Goodluck Jonathan intervened and made money available enabling the NFF to pay the bonus money to the striking squad in Brazil.