SPFL chairman criticises BBC's Scottish football coverage
Last updated on .From the section Football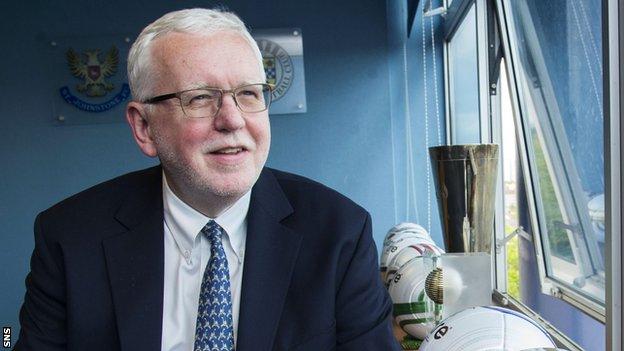 Scottish Professional Football League chairman Ralph Topping claims the BBC are "discriminating" against the game in Scotland.
Topping wants more of the licence fee to be spent in Scotland, arguing football is "badly short-changed" and "damaged" by the corporation.
"There comes a point where you have to say 'enough is enough'," he said.
However, BBC Scotland says rights are negotiated in line with market conditions and not population quotas.
Topping said there was "an overwhelming argument" that public money spent on the UK's national game should be more evenly split.
"There is no doubt that the English Premier League is one of the most powerful leagues in the world, and the BBC is paying £68m per annum over the next three years for its slice of that particular cake.
"But Scottish football will no longer be satisfied with the crumbs off the table," he added.
In response, BBC Scotland said the corporation was one of a number of organisations who regularly compete for sports rights.
"The SPFL welcomed the current rights agreement with the BBC and other broadcasters when it was announced - Neil Doncaster saying it was great news for fans of Scottish football," it added.
"When we negotiate for sports rights our priority is to get value for money for the licence fee payer.
"Negotiation is two-way: the SPFL come to the table with their wishes and we decide on how much we can reasonably spend on the rights package on offer.
"Supporters in Scotland tell us they enjoy watching highlights programmes of both the Scottish Premiership and the English Premier League and we don't believe that audiences in Scotland are being short-changed.
"We have a long-standing relationship with football's governing bodies in Scotland and we believe our involvement has a positive impact on the appreciation of the game in this country."