Steven Gerrard or Frank Lampard? A question that still divides

By Phil McNulty
Chief football writer
Last updated on .From the section Championship880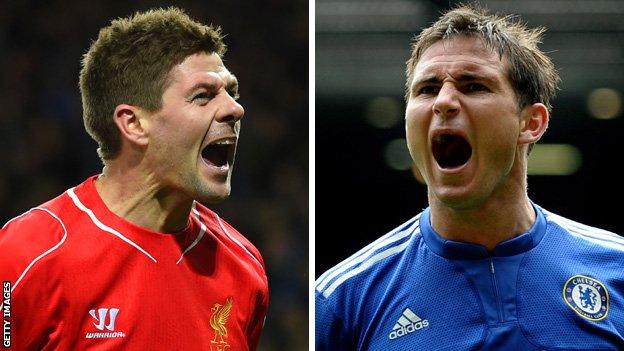 The Premier League and English football will witness the end of an era with the close of this season as Steven Gerrard and Frank Lampard - two of the outstanding and enduring figures of this generation - leave to join Major League Soccer with LA Galaxy and New York City FC.
For clubs and country, both were permanent fixtures in the nation's sporting psyche, Gerrard with Liverpool and Lampard with Chelsea - the latter's career bookended by his time at West Ham United and Manchester City.
They will leave huge spaces behind them, members of England's "Golden Generation" who may not have experienced fulfilment on the international stage but will never be forgotten for their deeds elsewhere.
So was one better than the other? Both will have their backers and like many debates involving the pair, will there ever be a definitive answer?
The journey to greatness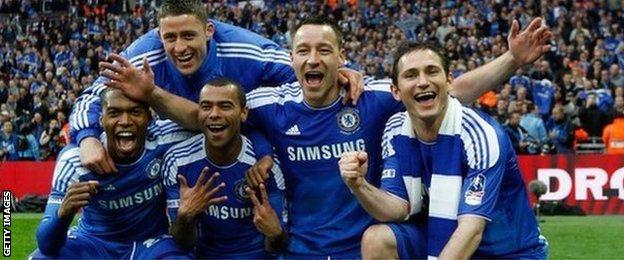 Liverpool and Chelsea supporters will make a concrete case for both players being the best - the youth product turned legend who often dragged his team to success single-handed, against the midfield maestro at the heart of a string of successes.
While Gerrard, who celebrates his 35th birthday on 30 May, was the constant in a string of Liverpool transitions, Lampard was part of the spine of a series of outstanding Chelsea sides.
Gerrard was Liverpool's iconic leader, the man the Kop looked to in times of stress to produce the moment that made the difference. It was a responsibility he carried with relish.
Lampard, 36, was equally important but, perhaps crucially, he was accompanied by Petr Cech in goal, Ashley Cole at left-back, John Terry as captain and Didier Drogba in attack. He was part of Chelsea's foundations whereas Gerrard was often Liverpool's only stable base.
Gerrard v Lampard in the Premier League

Steven Gerrard

Frank Lampard

Games

503

608

Goals

119

176

Assists

92

102

Total goal involvement

211

278

Win %

50.7

57.2

Trophies

10

13
Terry took the mantle of captain naturally, leaving Lampard to exert his talent elsewhere, but often Gerrard was left to do it all alone at Anfield. Few of Liverpool's recent successes would have happened without his influence.
Lampard had his struggles too, though, and had to show the character that would become his trademark when he suffered heavy criticism in his formative years at West Ham United. He made his debut in January 1996 but some fans were not convinced of his pedigree and believed he was benefiting from his father Frank's influence as a member of the backroom team.
It was only when he moved to Chelsea that he flourished, playing his part in winning the club's first title in 50 years in 2004-05 - scoring both goals in the win at Bolton that sealed the triumph.
Gerrard missed out on the Premier League, the one absence from his trophy cabinet, and will forever regret the slip against Chelsea that pushed the title away from their grasp in 2014, but he won the Champions League, Uefa Cup, the FA Cup twice and the League Cup on three occasions. A wonderful return.
Lampard is a three-time title winner, who won the FA Cup four times, the League Cup twice as well as the Champions League and Europa League.
They were achieved in different, less reduced circumstances to Gerrard, but that does not lessen their merit.
Gerrard was occasionally surrounded by greatness in the shape of Fernando Torres and Luis Suarez and was part of a stellar 2008-09 Liverpool midfield alongside Javier Mascherano and Xabi Alonso, anchored by the defensive rock of his great friend, the one-club man Jamie Carragher.
It will be against these two different contexts, though, that the respective partisan arguments about who was the best of the two will be framed.
The great moments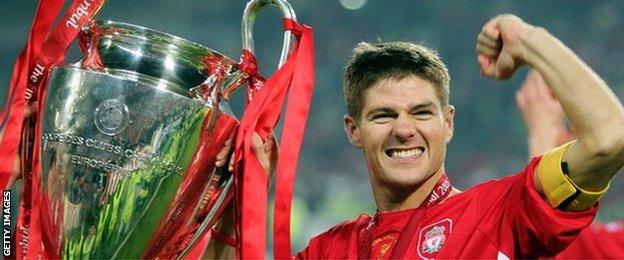 Great players make the decisive contributions when it matters most - a skill shared by both Gerrard and Lampard.
Gerrard's greatest moment in a Liverpool shirt came when he inspired the comeback from 3-0 down at half-time in the Champions League final against AC Milan in Istanbul in 2005, which they ended up winning on penalties. He scored the first goal that gave Liverpool hope then won the penalty that directly led to Alonso's equaliser.
This all came after he scored the late goal against Olympiakos at Anfield in the group stage that put Liverpool into the last 16.
A year later came the thunderous last-gasp 35-yard equaliser in Cardiff that ensured Liverpool could beat West Ham United on penalties in the FA Cup final. Few players have their name bolted on to a single game but this became known as "The Gerrard cup final".
Lampard has an FA Cup final winning goal to his name as well, against Everton at Wembley in May 2009, scoring with just 18 minutes left to give Chelsea the trophy.
And when captain John Terry was missing through suspension, Chelsea turned to Lampard as their inspiration when they finally claimed the Champions League against Bayern Munich in the German club's own Allianz Arena in 2012, giving a magnificent individual performance as owner Roman Abramovich finally got his hands on the prize he wanted above all others.
Lampard was at it again 12 months later, leading Chelsea in the absence of injured Terry, when they beat Benfica in the Europa League final.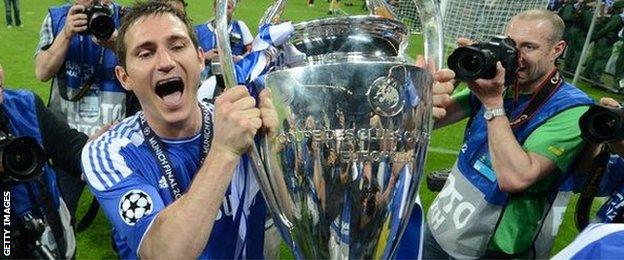 The great confrontations
When great careers cross at two of the Premier League's superpowers, it is the catalyst for titanic confrontations in domestic and European competition.
Gerrard and Lampard met 20 times in the Premier League, the latter coming out on top with 10 wins against seven and three goals to one.
And for Gerrard, the game in opposition to Lampard for Chelsea last April will be forever remembered for his infamous slip which allowed Demba Ba to race clear and wreck Liverpool's hopes of a first title in 24 years.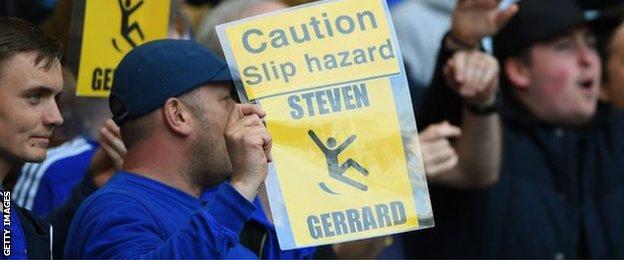 He also gifted Didier Drogba a goal with a backpass in Chelsea's victory at Anfield in May 2010 that pushed Carlo Ancelotti's team to the brink of the title.
Throw in Gerrard's own goal in the 2005 League Cup final defeat by Chelsea and you could assume he has suffered miserably against a team he almost joined twice.
Not so.
Gerrard was a key figure in two Champions League semi-final wins against Jose Mourinho and Chelsea in 2005 and 2007 - and also played in the 2006 FA Cup semi-final victory at Old Trafford.
Lampard suffered those Champions League agonies but also his successes, scoring a vital penalty when Chelsea won a semi-final second leg against Liverpool at Stamford Bridge in 2008, the goal coming on an emotionally-charged night six days after the death of his mother, Pat.
Phil Neville, who played alongside the pair for England and against them for Manchester United and Everton, told BBC Sport: "When you get a clutch of really good players breaking through you tend to drive each other on with the competition. With Frank and Steven, even though at times they were playing in the same team as well as in opposition, they were always driving each other on to be better.
"If Frank scored a goal Stevie had to score a goal. It's what great players do and you see it with how Cristiano Ronaldo and Lionel Messi compete with each other. You are inspired by the biggest challenges.
"It was a strength and a weakness of why they couldn't play together in a way.
"I think Stevie, in his club career, maybe felt a little bit on his own at times. Maybe he looked at Frank as part of a great team, winning league titles and other cups - whereas he made Liverpool a good team by his own performances."
The England puzzle: Why did it never work?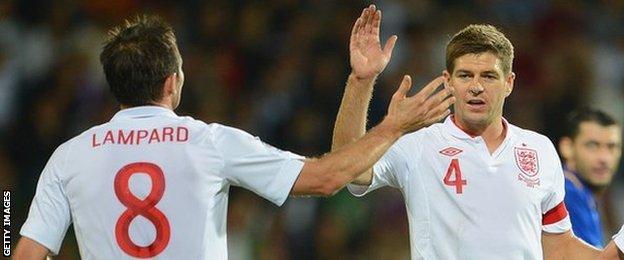 It was the question that stretched from the time Gerrard and Lampard first played together for England in a friendly against South Africa in Durban on 22 May 2003 until they left the international stage after a goalless dead rubber against Costa Rica in June 2014 at the World Cup in Brazil shrouded by the disappointment of another failure at a major tournament.
Blessed with two of the outstanding midfield operators of their generation, forces at home and in Europe for their clubs, the pair never reproduced such riches for England and suffered disappointments at World Cups in 2006, 2010 and 2014 as well as Euro 2004.
Injuries meant Gerrard missed the World Cup in Japan and South Korea in 2002, while Lampard was ruled out of the European Championship in Poland and Ukraine 10 years later. It was a tale of two men unfulfilled at this level despite their enduring presence.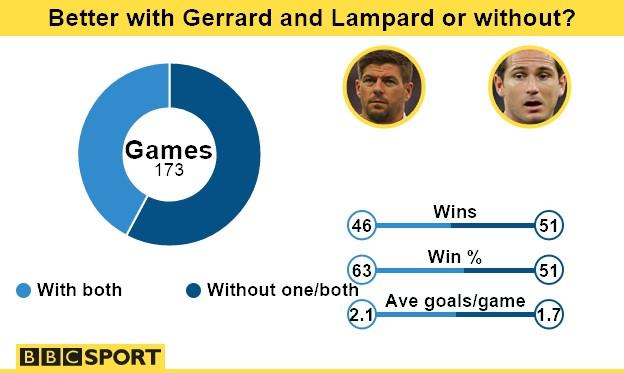 "It should have worked," Neville said. "With David Beckham, Lampard, Gerrard and Paul Scholes you had four of the best midfielders in Europe but we didn't win anything and that was a major disappointment.
"Because of the way they were, they were almost competing with each other. I'd liken it to putting Ronaldo and Messi in the same team. They'd both want the ball, both want to score that goal.
"This was no reflection on them and certainly in no way a suggestion of selfishness because they are both great team men but I think that was the situation we had with England. We never found a system that would complement them both."
Was it that they were too similar? Was one always playing within himself to suit the other? It has been the constant narrative to the last decade of England's story.
Neville has his own theory: "Maybe if you had the 23-year-old Lampard and the 34-year-old Gerrard as a sitting midfielder that would be a better combination than the two younger players. It just didn't work and I think it was because they were too similar, they had the same mindset."
They were never a failure for England, far from it, but the lack of success in the defining moments will always be the backdrop to their international careers.
The next step in the United States
While the departure of Gerrard and Lampard signals the end of a Premier League era and their exits will be both celebrated and mourned, the pair may face contrasting welcomes when they arrive in the United States.
This is because of the complications surrounding Lampard's move to New York City after he extended his contract at Manchester City, delaying his US arrival.
Joe Prince-Wright, lead writer and editor of NBC Sports' ProSoccerTalk, told BBC Sport: "The two legendary midfielders are likely to get vastly different receptions.
"Lampard can expect a hostile reception from hardcore MLS fans but that is likely to be temporary and given New York's shaky start to the season his arrival will be greeted with glee from NYC FC's fans and head coach Jason Kreis. Lampard forging an instant partnership with David Villa will be key to the club turning things around.
"As for Gerrard, his arrival will be lauded by the whole of MLS and his superstar status fits hand-in-hand with LA Galaxy's philosophy.
"Given that the core demographic of MLS fans is between 18 and 49, most of them will have grown up seeing Gerrard and Lampard, along with the other designated player Kaka, rule Europe and be dominant figures for club and country.
"Overall, the initial reception these two English superstars can expect will be hugely positive and TV ratings and media interest will go through the roof. But, and it's a big but, they must deliver goals and moments of magic for the honeymoon period to extend through their Stateside adventure."
How will they be remembered?
The question that will always divide.
Neville refused to make that comparison but says: "I think as a goalscoring midfielder, Frank was the best in Premier League history. You can't take that away. In terms of an influence on one club, you'd probably say Gerrard has been the best in the Premier League.
"It is very difficult to choose because I don't like comparisons but in an individual way, Frank was the best at what he did and, for what he did at Liverpool, Steven was the best at what he did."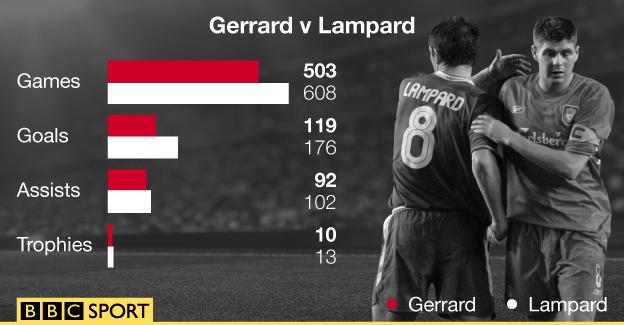 Neville's admiration for Gerrard is revealed by this admission: "Put him alongside Roy Keane, probably even ahead of Frank, put him alongside Paul Scholes or a Michael Carrick and you think United probably would have won more European Cups.
"If you talk about Liverpool players over the years - and they have had some greats - I have never once thought I'd like to put him in a Manchester United shirt. [But] Gerrard was one - put him in a United midfield next to Scholes or Keane and wow, utopia."
Robbie Savage, who also played against both, edges towards Gerrard: "Steven is the best midfielder I played against but Frank was not far behind him and it is hard to say who had the greater impact on the Premier League in the last 15 years or so.
"Lampard has more titles to show for his career but the only reason for that is because when he was at Chelsea he played with better players in a better team.
"Could Lampard have done for Liverpool what Gerrard has done? I'm not so sure. He is a fantastic goalscoring midfielder but maybe not the complete player that Gerrard was at his peak. That is the only difference between them."
And the verdict here?
Let's use a twist on the old cricket adage of who you would like to play an innings to save your life.
While the answer to this question is obvious, Geoffrey Boycott of course, here the margins are more slender.
But if a choice has to be made it would be Gerrard. Just. Just for that ability to change a game in an instant which is the preserve of true greatness.