Eniola Aluko column: Personality tests aid England World Cup bid
Last updated on .From the section Women's Football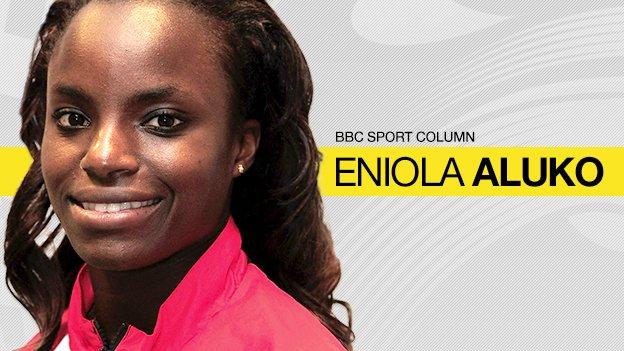 England and Chelsea forward Eniola Aluko will be writing a regular column for the BBC Sport website throughout the World Cup.
After making Mark Sampson's England squad she explains how personality testing and team development sessions have led to more openness in the squad as it prepares for the tournament in Canada.
Recent personality testing within the England squad has shown that I'm a dominant-red type, apparently.
That means I'm a go-getter, determined and a no-nonsense person. That might not be news to some people!
This discovery has been part of our preparations for the World Cup in Canada next month, where our manager Mark Sampson has welcomed an external company into the squad to see what motivates us as players and how we can improve communication between each other.
In addition to the personality testing, we have had team development sessions where we have been encouraged to be more open with each other. It is perhaps a trait that has been lacking in the past.
The sessions have revealed some powerful stories amongst the 23-strong squad, which you can only be inspired by. It is an incredible group of people.
That's why I was particularly pleased that my Chelsea team-mates and friends Katie Chapman and Claire Rafferty made the England squad.
I have witnessed first-hand how Katie has returned to the team after a five-year absence because her England contract was cancelled. Claire has come back from two cruciate knee injuries since playing in the 2011 World Cup in Germany.
Others in the squad have learned to be more open with their sexuality and how it impacts on their lives, some have overcome deaths in their family and reversed their decisions to quit football. And there are those who have battled with depression to make it to the pinnacle of the sport.
Sometimes I look at my life and think it's been difficult but then I might look at my team-mate to the right of me in the dressing room and I think, "gosh, it's been tougher for them".
We don't want to let each other down in Canada. And if you are playing with people who inspire you then you are going to run that extra yard for each other when it matters most.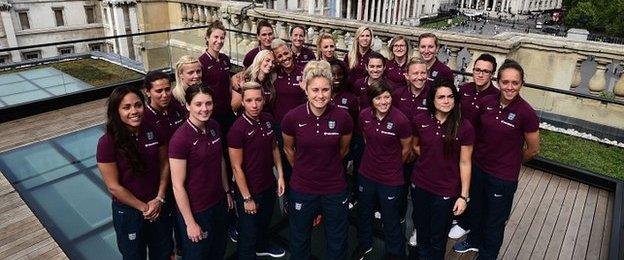 No secrets among us
When I play football my personality is hardly a secret: I want to win and I'm not here to mess about. I see it as a positive thing and, if I wasn't like that, I don't think I would have achieved as much in my life.
Off the pitch, I'm quite pensive and try to reflect on things but I'm still honest and open with myself and other people. So after the testing, you'd hope that my team-mates know more about how I operate as a player and a person, while I can better understand them.
Being away from home for up to six weeks is a long period of time, so it's about realising how to best communicate with each other, particularly in times of adversity.
All about Eniola Aluko
Born: 21 February 1987, Nigeria
Forward for Chelsea Ladies and England (90 caps, 32 goals)
Ex-clubs: Birmingham, Charlton, St Louis Athletica, Atlanta Beat, Sky Blue
Qualified as a sports and entertainment lawyer in 2014
Brother Sone plays for Hull City in the Premier League
The Women's Super League is hotly contested and you can have instances where you lock horns with players at different clubs but now we all have to come together as team-mates and perform.
There are some great characters in the squad for differing reasons. You may have seen the bubbly personalities like Jill Scott and Lianne Sanderson, who are big on social media and always keep the energy levels high.
You have quieter characters like Katie who might not say much but is an extremely strong person. Our captain Steph Houghton is a fantastic example to the team, while Casey Stoney is very experienced. Our vice-captain Jordan Nobbs may be young at 22, but she is very confident in herself. Overall, we have a really good blend.
It's no coincidence that since Sampson took over, playing for England is enjoyable and this sort of psychological help can only be of benefit to us. We are very privileged to represent our country and we respect the fact that it's a blessing to play in a World Cup. I am certainly going to enjoy it and I feel like I have unfinished business too.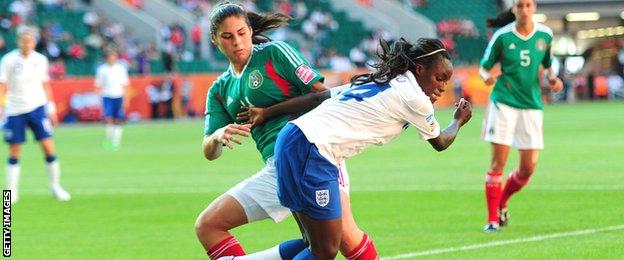 Learning lessons from Germany
This will be my third World Cup with England but it's fair to say I've not shown my full capabilities in the tournament so far.
Four years ago, I got some stick via Twitter after I missed a few chances during England's opening game, a 1-1 draw with Mexico.
Looking back at it, the criticism was probably fair but I was quite fragile at the time, new to social media and shocked at some of the abuse I was receiving.
You can only learn from those experiences and after my best goalscoring period for England during qualification for this World Cup, I know I am a lot sharper as a striker now. I've learned more about finishing and have become a much better player during my time at Chelsea.
As a person, I'm a lot stronger too. I remember the pain of the quarter-final defeat by France in 2011, I can think back to the early exit at the European Championship two years ago.
But I'm in an environment under the manager where I can be confident, my club form has been good and I'm hoping I can be one of the best forwards at the World Cup.
This time I will have no fears.
Eniola Aluko was talking to BBC Sport's Alistair Magowan