Jose Mourinho insists memories are more important than medals
Last updated on .From the section Football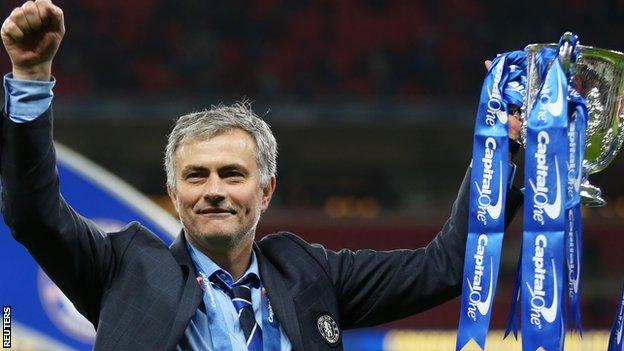 Jose Mourinho claims medals do not mean anything to him as he prepares to earn another one for leading Chelsea to the Premier League title.
Chelsea will win a third championship under Mourinho if they beat Crystal Palace at home on Sunday (13.30 BST).
But the Blues' manager insists it is the memories of success that count.
Mourinho said: "I have replicas of every cup I won and I don't care about the replicas. Or the medals. The meaning is the important thing."
Mourinho, who secured the Premier League title with Chelsea in 2004-05 and 2005-06 during his first spell in charge, has won 21 trophies in his career, with domestic titles in Portugal, England, Italy and Spain.
He added: "What stays forever is the feeling, the emotion, the memory of the moment. I have clear in my memory every one of these moments I lived.
"You have like a flash of the people you love most, the people who are with you, a little bit of the most important moments that lead to that trophy.
"It's like a quick flash. And, with me, five minutes later, move on."