Can Gary Mills end Wrexham's Football League exile?

By Rob Phillips
BBC Wales football correspondent
Last updated on .From the section Wrexham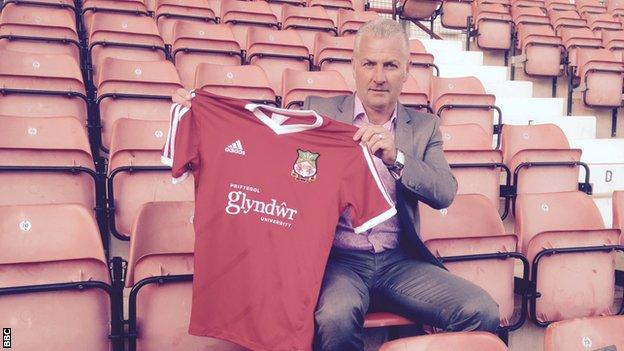 Seven years and counting - Wrexham have been exiled from the Football League for a long time.
Hopes were high for Kevin Wilkin at the start of this past campaign. He had arrived with a track record in non-League football.
And he proved that his eye for a player was generally sound.
Striker Louis Moult, the excellent Manny Smith and Blaine Hudson were successful signings, and Robbie Evans has led the way in the emerging young talent.
But it appears Wilkin struggled to get to grips with the demands of a full time club, while some of his game management was openly questioned by players.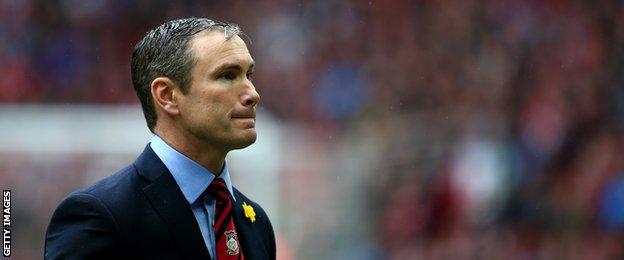 After a promising start to the campaign Wrexham struggled amid rumours that all was not well in the dressing room.
The post-season comments of captain Dean Keates point to problems off the field.
Even an FA Trophy final appearance could not paper over the cracks.
In fact, a penalty shoot-out defeat at Wembley by part-timers North Ferriby proved the final straw for the Wrexham board.
Wilkin was sacked the following day, but not before one player publicly blamed the manager's Wembley substitutions for costing the Dragons the trophy after they had led 2-0.
Carl Darlington - brought on board as coach in December - galvanised the squad for the remainder of the season as Wrexham revived to shrug off any relegation fears.
Darlington rightly deserves praise and probably would have been a popular choice as manager if he had wanted it. But he made it clear he did not.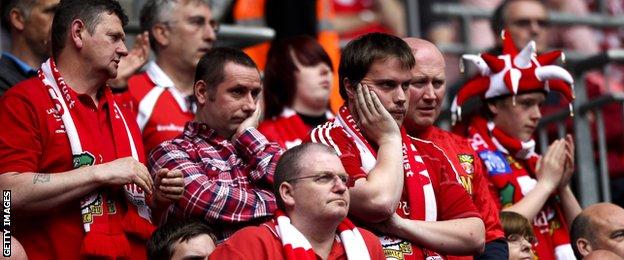 But at least Darlington underlined Wrexham's potential, which Mills will be looking to build on.
With a summer to re-organise and build, Mills will be backed by a fan base yearning for a return to the Football League, having been there for 87 years before dropping to the Conference in 2007-8.
Mills' pedigree is good. He led York City back into the Football League three years ago.
In 2014 he took Gateshead to the Conference play-off finals for the first time, only or be beaten by Cambridge United.
As befits a double European Cup winner under the legendary Brian Clough at Nottingham Forest, Mills is known for his passing style,
Yet substance, not style, will be the key next season. History underlines how difficult it is to return to the Football League from the Conference.
Since Wrexham's relegation, only Mansfield (who went down with them), Luton Town and this season's Conference champions Barnet have clambered back up.
Bristol Rovers or Grimsby may yet join them.
As Wrexham know all too well with only one automatic promotion place it is fiendishly difficult to get back into League Two from the Conference.
In 2011-12 even 98 points was not enough to climb back into the League.
Instead they finished second in the table behind Fleetwood and lost in the play-off semi final to Luton Town.
A year later Wrexham did reach the play-off final - but were beaten 2-0 at Wembley by Newport County.
Some find relegation from the Football League too much to bear.
Stockport County now play in the sixth tier of English football while Hereford United were wound-up in the High Court in December 2014.
At least Wrexham's fan-run club have not suffered like some. But still, it has been too long since they were in the Football League.
Wrexham fans and Welsh football supporters generally will be hoping Mills is the man to end the exile.