Liverpool fans boycott Hull City game because of ticket price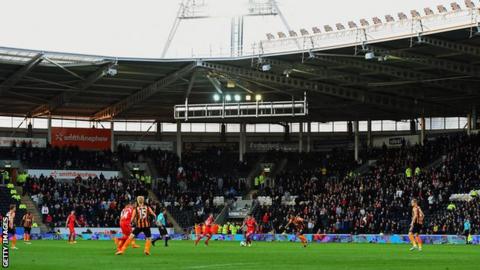 A Liverpool supporters' organisation has condemned "greedy" clubs as away fans stayed away from the match at Hull City because of the £50 ticket price.
The Spirit of Shankly group requested fans did not attend Tuesday's Premier League game, and there were empty seats in the away end despite the club having sold the allocation of 2,500 tickets.
"These clubs are so greedy, they charge fans through the nose - it has to stop," said spokesperson Keith Culvin.
Fans also protested outside Anfield.
The group suggested that supporters buy junior tickets, but not travel to Humberside.
Culvin added on BBC Radio 5 live: "You can buy a kids' ticket for £10 and still keep your loyalty scheme. We wanted to prove a point - to have half the stand empty, but not let fans lose out on loyalty."
Before the fixture, Hull boss Steve Bruce said the Premier League should act on rising ticket prices to help fans.
Stoke and Burnley fans were charged £16 for attending their teams' respective league fixtures at the KC Stadium earlier this season.
Fixtures involving strongly-supported clubs such as Liverpool and Manchester United are usually in the 'A' ticket category, which is the highest price group.
Arsenal charge £64 - the most for Category A games - while West Brom charge the least, £39.
| Price of category A Premier League games for away fans | |
| --- | --- |
| Arsenal: £64 | Man Utd: £46 |
| Aston Villa: £43-45 | Newcastle: Give allocation to away club and it is up to them. Chelsea said tickets for their match at St James' Park were between £40-50. |
| Burnley: £40 | QPR: £40-£50 |
| Chelsea: £59 | Tottenham: £54 |
| Crystal Palace: £45 | Southampton: £42 |
| Everton: £46 | Stoke: £40 |
| Hull: £50 | Sunderland: No response yet |
| Leicester: £40 | Swansea: Cost decided by away team |
| Liverpool: No response yet | West Brom: £39 |
| Man City: Usually between £50-£60 | West Ham: £55-£70 |