Emmanuel Adebayor: Dark moments behind me
Last updated on .From the section Football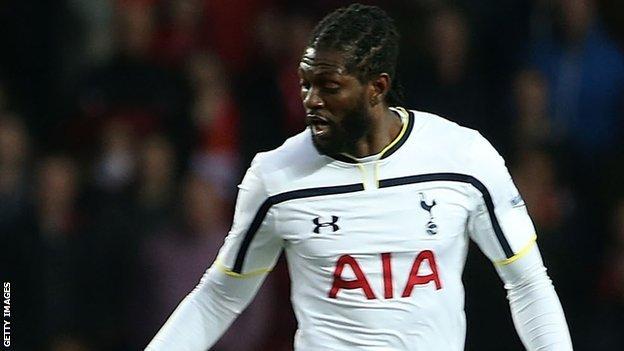 Tottenham striker Emmanuel Adebayor says he is working hard to regain his form after overcoming personal issues.
The 31-year-old Togo international made his first appearance for the club for almost two months in Sunday's 3-0 defeat away to Manchester United.
"I went through a little bit of a dark moment in my career but now I am back training hard and that's it," he said.
"A lot of things went wrong. We are all human beings. We all go through a lot at certain time of our lives."
He added: "I think I have learned from it. I went through a lot of family issues. Now it is behind me and I am back on the football pitch. I am very glad to be back.
"I am available. I'm not 21 years old any more. I am 31 and I look at things differently. I just have to help my team and show respect for them and show respect for the club."
Adebayor started the season as the club's first-choice striker but indifferent form - he has scored only two goals in his 16 appearances - and personal problems have meant he has fallen behind rising star Harry Kane.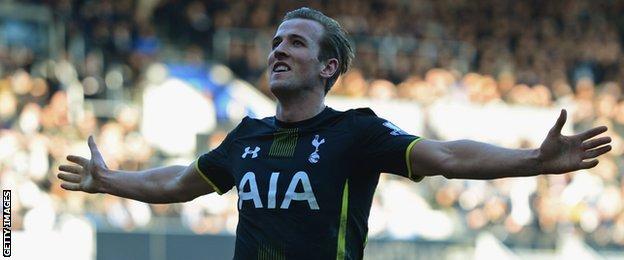 He was granted a spell of compassionate leave in December and upon his return he almost left the club on transfer deadline day to join West Ham.
Adebayor refused to reveal the exact details of what went on in the final day of the transfer window, and would not say whether he would remain at the club beyond the end of the season.
He said: "The summer is a long way to go. We've got what, nine games to go? That is almost two months. So we've got plenty of time.
"At the beginning of the last season, everyone wanted me out; at the end of the season, they wanted me to stay.
"I just have to keep believing in myself.
"And for me, sitting on the bench, as a player, I have been there before. I just have to work hard on the pitch and come back and play football.
"Today, you are zero. Tomorrow, you are a hero."
Adebayor also moved to try to heal the rift that was created between him and the Spurs support in November when he said the team was "finding it hard in the head" to play at White Hart Lane while the fans were booing.
"Maybe sometimes, whenever I speak, obviously it's misunderstood and people take it the wrong way," he said.
"I don't know if I have been punished or not but what I know is, I'm me, I'm being me, and whatever something is strong, if I have to say it and correct the thing, correct the future for the club, I will do it.
"Somebody will say something that people will misunderstand and take the wrong way but I have nothing against the fans, I always love the fans."