Birmingham City: Sale of club remains a 'last resort' say receivers
Last updated on .From the section Birmingham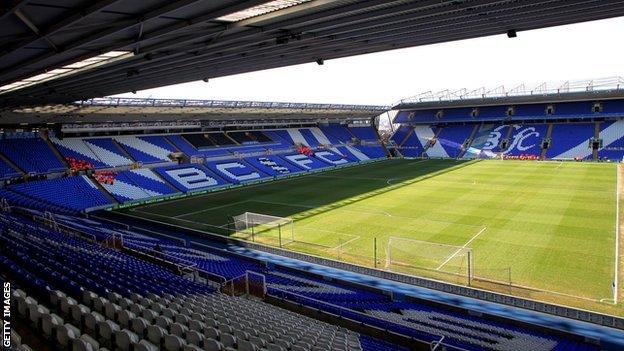 The parent company of Birmingham City have said that no talks have been held over the potential sale of the troubled Championship club.
Birmingham International Holdings (BIHL), who went into voluntary receivership in February, confirmed the news to the stock exchange on Thursday.
In a statement, the receivers confirmed that "no significant discussions" have taken place with any potential bidders.
It also emphasises any sale of the club remains a "last resort".
The statement read: "The receivers would like to confirm they have not commenced any significant discussion or negotiation with any parties in relation to the sale of the shares and equity interests in BCFC.
"The receivers are open to a wide spectrum of options to preserve the value of the company as a whole and in the interests of the company and the shareholders as a whole.
"Disposal of interests in BCFC would be a last resort to the receivers."
BIHL blamed "fractious and inharmonious relations within the management" for the decision to call in the receivers, but quickly appeased concerned supporters by confirmed the club was not being wound up and that its day-to-day running remained unaffected.
The Football League have already said they are happy that enough funds are available to allow Blues to complete the current season.
The club are currently 14th in the Championship table, well clear of the relegation zone, with 10 games remaining.