Champions League: Why English teams are struggling in Europe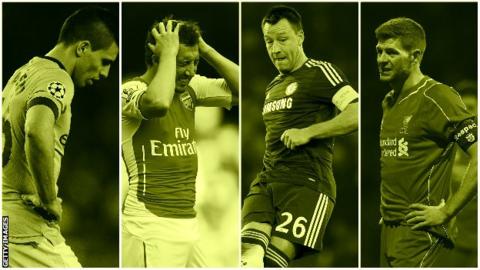 The Premier League has no representatives in the Champions League last eight for the second time in three seasons, after Manchester City and Arsenal followed Chelsea in being knocked out in the last 16.
Why are English teams struggling to match their performances of six years ago, when the Premier League provided three semi-finalists for Europe's elite club competition for the third consecutive season?
Is it just cyclical? Or are there some more fundamental problems? How bad has the situation become? And what are the possible reasons for the slump?
The rise and fall of English clubs in Europe
With two Champions League finalists (one winner) and three semi-finalists in the last five years, some might ask: what is the problem?
But an analysis of the performance of English clubs in the Champions League over the last 20 years shows their dominance has diminished.
Sixteen English clubs made the last eight between the 2006-07 and 2010-11 seasons.
Between the 1999-2000 and 2010-11 seasons, at least two teams from the Premier League reached the quarter-finals 10 times out of 12.
There was an English finalist in seven of the eight years from 2005 - and from 2006-07 there were three Premier League semi-finalists per year for three successive seasons.
What about in recent times though?
After this month's disappointments, only three English clubs have reached the Champions League quarter-finals in the past four seasons.
No English team progressed beyond the last 16 in the 2012-13 and 2014-15 seasons.
Only one English side (Chelsea, who won it in 2012) has reached the semi-finals in the last four years. During that time German side Bayern Munich have made the semi-finals in four of the last five years.
A golden era for Bayern, Barca and Real
It was not always like this. Between 2004-05 and 2008-09, no German clubs reached the last four and the Premier League provided 60% of the semi-finalists.
While English impact has faded, teams from Spain and Germany have dominated the competition.
Real Madrid have reached the semi-finals for the last four years, winning the tournament last year.
Fellow Spaniards Barcelona have reached the last four in five of the last six seasons, winning it in 2009 and 2011.
German side Bayern Munich have also reached four of the last five semi-finals, reaching three finals and winning one, in 2013.
In the last five years of the Champions League, the German Bundesliga has produced 40% of finalists and Spain's La Liga 30%, with the Premier League lagging behind at 20%.
The rise of Spain's super powers has proved a particular problem for English clubs, with Manchester City this season becoming the seventh Premier League team to be knocked out by either Real or Barca in the last six years.
Only Chelsea have managed to get past either of the Spanish giants in the knock-out rounds during this period, beating Barcelona in the last four on their way to lifting the trophy in 2012.
It can surely be no coincidence that Spain's domestic golden era coincides with Barca's Lionel Messi and Real's Cristiano Ronaldo establishing themselves as the world's best players.
The duo have scored 102 goals (Messi 50, Ronaldo 52) between them in the past five Champions League campaigns and have shared the World Player of the Year awards for the last seven seasons.
Spanish clubs are not the only ones to cause pain for English sides. Bayern Munich have knocked English teams out of the Champions League five times since 2009, with Chelsea's 2012 final win on penalties the only time an English club has prevailed over the German giants in the same period.
A new cycle in English football?
English football is arguably undergoing a transitional stage with Manchester United, the Premier League's dominant club for two decades, experiencing a first season out of the Champions League since 1995-96.
After returning the following year, United failed to reach the Champions League quarter-finals only five times in the subsequent 17 years until the departure of manager Sir Alex Ferguson in 2013. They reached the semi-finals seven times and four finals, winning two. An undoubted European force.
Fergie's successor David Moyes also took them to the quarter-finals in a season of domestic struggle, but United are rebuilding under new manager Louis van Gaal and are not guaranteed a place next season either.
Their city rivals Manchester City may have won two of the last three Premier League titles, but they have struggled to replicate their domestic form in Europe, going out in the first knock-out round for the second successive year, after exits at the group stage the two previous years.
City have undoubtedly had some tough groups - three times pitched with Bayern, the other with Real Madrid and Borussia Dortmund - but can they continue to blame a Uefa seeding system that until now has been based on performance in European competitions over the last five years?
"Man City are not novices anymore," their former full-back and ex-England defender Danny Mills says. "They have been in it for four seasons now. They have got world-class international players that have played in the Champions League and World Cup finals, but have still struggled.
"The Premier League is a fantastic product - the watch-ability is second to none because it is always exciting, bottom can beat top and it is unlike any other league in the world. But in terms of actual quality…"
Chris Sutton, the former Blackburn, Chelsea and Celtic striker, noted: "You can't be unlucky every season. This is the second year in the last three that there is no English club in the quarter-finals. For the so-called 'best league in the world', I would say that is unacceptable."
Uefa is poised to give top-seed status to winners of its highest-ranked leagues from now on. Hope for the future perhaps?
Can we blame English players?
The simple answer is no.
A BBC Sport study in November showed that Arsenal, Chelsea, Manchester United, Manchester City and Tottenham use the most non-UK players of any teams in the Premier League.
Only five English players started the second-leg ties in the last 16 (Gary Cahill and John Terry for Chelsea, Danny Welbeck for Arsenal - with Kieran Gibbs & Theo Walcott coming off the bench - and Joe Hart and James Milner for City.)
Champions League last eight
Atletico Madrid - beat Bayer Leverkusen on penalties
Barcelona - beat Man City 3-1
Bayern Munich - beat Shakhtar Donetsk 7-0
Juventus - beat Borussia Dortmund 5-1
Monaco - beat Arsenal on away goals
Paris St-Germain - beat Chelsea on away goals
Porto - beat Basel 5-1
Real Madrid - beat Schalke 5-4
By contrast, Borussia Dortmund fielded 10 German players when they beat Manchester City in 2012 and there were six when Munich overcame Arsenal later that season.
Structural changes in the development of young players were implemented in the Bundesliga after Euro 2000 when Germany went out in the group phase. Since then, Bundesliga clubs have spent hundreds of millions on their academies.
And so, while the transfer policies of English clubs have been influenced by the introduction of financial fair play (FFP) in 2013 - a system designed to ensure clubs do not spend beyond their means - German clubs were well placed to cope.
Perhaps FFP will force the Premier League to take the Bundesliga route - and their success is obvious.
Are English places under threat?
Despite struggling for a second consecutive year - only two of the four Premier League sides, Manchester United and Chelsea, reached the Champions League quarter-finals last season - England still sits second in Uefa's coefficient rankings, behind Spain but ahead of Germany and Italy.
The coefficient determines the number of qualification places national associations are allocated in the Champions League and Europa League.
The Premier League's four Champions League places (the top three automatically into the group stages, the fourth into a qualification round) appear safe for some time, with fourth-placed Italy currently 14 ranking points behind England.
Would a winter break help?
Footballers in Italy, Germany, France and Spain can rest up over the Christmas period when players on English shores are staying in hotels on Christmas night for Boxing day games, playing twice over the New Year and then switching their focus to FA Cup action on the first weekend in January.
In the 41 days Bayern Munich had off from 19 December last year, Manchester City played eight competitive games.
"Crisis point for Premier League football," tweeted Match of the Day presenter Gary Lineker. "If no winter break at least play less games over Xmas and no FA Cup replays beyond 4th round."
Former England winger Chris Waddle said: "If we had a winter break everybody would go and play in America, China, Dubai. They would not get a day off or get a rest."