Celtic: Peter Lawwell says minority cannot "slur" club's name

By Kheredine Idessane
BBC Scotland
Last updated on .From the section Celtic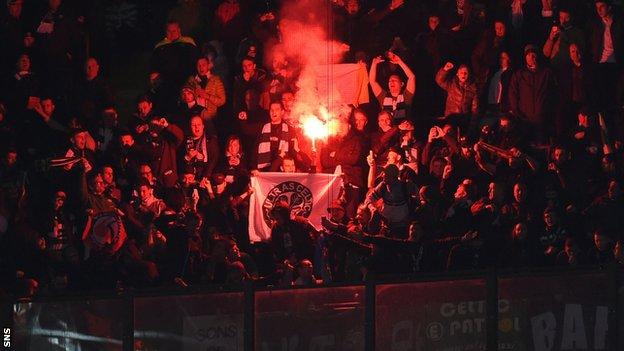 Celtic chief executive Peter Lawwell says the club's name should not be "slurred" by a few individuals who misbehave at away games.
The most recent incident took place during last week's 1-0 defeat by Inter Milan at the San Siro.
However, Lawwell said he would be against introducing a strict liability rule for fan misbehaviour in Scotland.
The chief executive does not believe clubs should be punished for inappropriate behaviour by supporters at domestic matches.
He was speaking as Celtic announced a new kit deal with sportswear firm New Balance, a five-year arrangement believed to be worth almost £6m per season to the club, and spoke about several other current issues in the Scottish game.
Lawwell on Celtic's new kit deal
"It will be our biggest kit sponsorship deal ever and we believe it's the biggest in Scottish football history.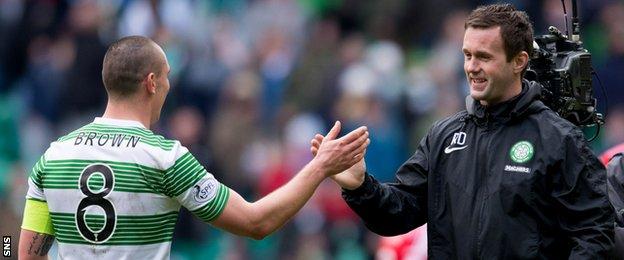 "This will obviously help provide finance for [manager] Ronny [Deila], for the team.
"There is some degree of negativity around at the moment in terms of the league. We have, with this deal, have shown that there is a real degree of positivity around this club."
Lawwell on fan behaviour
"Our supporters are magnificent. Clearly there are very isolated incidents of a very, very small minority of people that embarrass the club.
"But there is no material difficulty with Celtic supporters. In fact, we are held in the highest regard from everybody in Europe, clubs and the associations.
"Whoever comes here to Celtic Park - whether it's Manchester United, Barcelona, AC Milan - see this as the best.
"We are doing all we can to identify those who are responsible [for the flare incident] and we'll take the appropriate action.
"It's concerning because it allows Celtic's name to be slurred. I think there is a context that is missed here. You can't look at two people and condemn the football club."
Lawwell on strict liability for fan behaviour in Scotland
"I would not bring it in. I think it can be seen to go against justice as opposed to support justice. We as a club would be against it.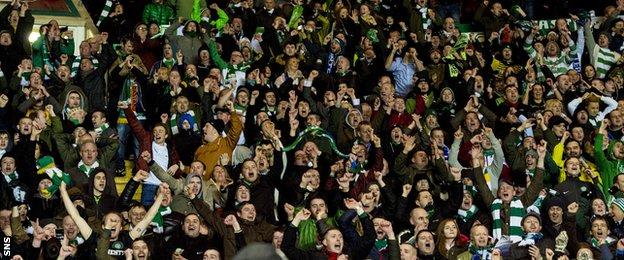 "If you come to Celtic Park for an event, there is no offensive behaviour. The crowds behave impeccably and therefore you have to put the problem into a context and for Celtic, we feel any problem is immaterial."
Lawwell on sectarianism
"I don't recognise Celtic being associated with sectarianism. I don't recognise Celtic being associated with Irish republicanism.
"I don't accept Irish republicanism is in Celtic's history, anywhere in Celtic's history.
"This is a club, since 1888, that has welcomed everyone. It's been inclusive, it's been diverse and open to all.
"We have a very small minority of people who have chants that we would rather not be here. Whether or not that is people who wish to have an Irish republican identity at Celtic is another matter. It's a complicated issue.
"People who promote proscribed terrorist organisations are not welcome at Celtic Park and that has been the case forever and will always be the case.
"But you need to put this into a context. This is a very, very small minority. And it's not at Celtic Park. If there is a problem, it's a very small minority of our away support, which we're dealing with."
Celtic later tweeted "for clarification" that Lawwell is "proud" of the club's Irish roots.
Lawwell on re-introducing alcohol at football grounds and safe standing
"We support that.
"Hopefully, we'll get there in the coming months [with safe standing]."