Cristiano Ronaldo sends stylist to museum to brush waxwork's hair
Last updated on .From the section European Football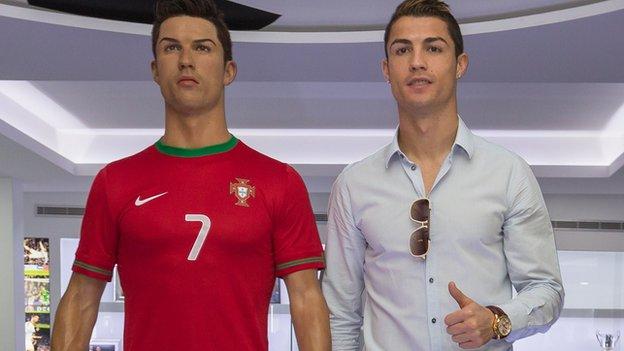 Cristiano Ronaldo has always been at the cutting edge. But as well as pushing boundaries on the football pitch, the Real Madrid forward is now setting standards in waxwork grooming.
A member of staff at Madrid's Museo de Cera has revealed the 30-year-old Portugal captain frequently sends his stylist to the museum to ensure the star's lifesize waxwork maintains a perfect likeness.
The statue has become one of the most popular figures at the museum since it was put on display in December 2013 and Ronaldo's hairdresser visits every 45 days to brush the mannequin's locks.
Like other waxworks at the museum, Ronaldo's double has natural hair which has been imported from India.
The museum's communication director Gonzalo Presa praised the Ballon d'Or winner, adding: "Cristiano told us to be sure his figure was perfect."