Rangers: Stuart McCall 'would be fantastic manager' says Nicky Law
Last updated on .From the section Football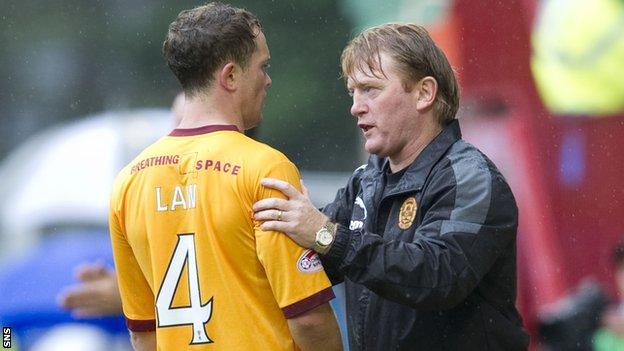 Stuart McCall would be a "fantastic" choice as Rangers manager should he be offered the job, according to Ibrox midfielder Nicky Law.
Present team boss Kenny McDowall is serving his 12-month notice period and his future is uncertain with a new board poised to be appointed on Friday.
Law worked under former Rangers midfielder McCall at Motherwell.
"Stuart knows what it's all about here and that will stand him in good stead if he does get the job," said Law.
"He would be fantastic. He's a legend here for the great service he gave to the club as a player and I've got no doubt he would do the same as manager.
"He's got a great reputation for improving people, as he did at Motherwell.
"Not just myself, you look at people he's moved on - Shaun Hutchinson, Darren Randolph, the list is endless of people he's improved and they've gone on to improve their careers."
Rangers have slipped to third place in the Scottish Championship, 24 points behind leaders Hearts, and it looks likely they will have to rely on the play-offs if they are to achieve a third promotion in a row.
"There's a lot to do obviously on the playing side, but knowing his character, it's not something that would worry him," Law said of McCall.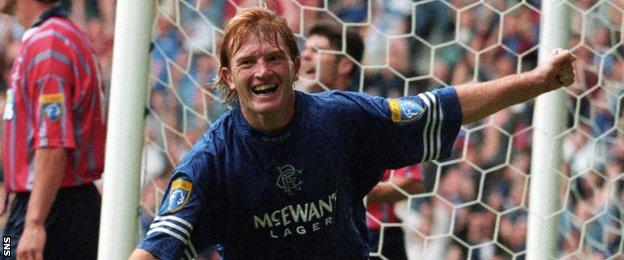 "It is something he would relish, I am sure.
"It is a huge job for whoever takes over. It is a difficult job.
"We are probably looking at the play-offs now, being realistic."
Law admitted that Ally McCoist's decision to stand down as manager, followed by assistant McDowall's announcement that he also wanted to leave, had affected the players more than the battle for control of the boardroom.
However, he stressed: "As players, you've got to look at yourselves and we've not been good enough.
"Confidence is a huge thing and there's been a lack of that in the last few months.
"When you lose it, it's difficult to get it back. You can't switch it on and off."
While he insisted he did not wish to comment on the present boardroom regime, Law was hopeful that "something positive" would emerge from Friday's extraordinary meeting.
"Hopefully it can be something to push the club on in all areas - on the field as well," he said.
"Hopefully we can get the fans back and things like that. It would be brilliant to see Ibrox packed out again."