Arsene Wenger: Arsenal boss says Gunners are "nowhere near" title
Last updated on .From the section Football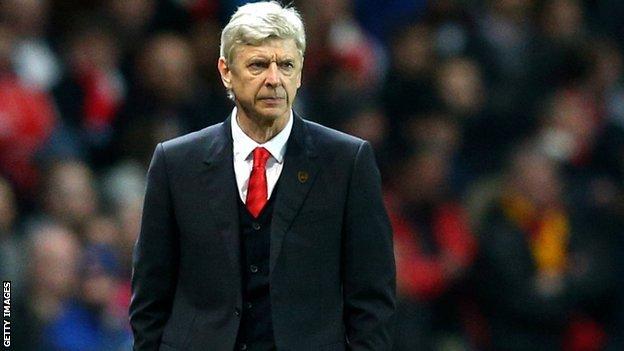 Arsenal are "nowhere near" winning the Premier League title, according to manager Arsene Wenger.
The Gunners lie third in the Premier League table, nine points behind leaders Chelsea with 11 games to play.
Wenger does not see his side as title challengers, despite six wins in their last seven league matches.
"At the moment we are nowhere near to winning the Premier League, and nowhere near close to being in the race," the Frenchman, 65, said.
Wenger nevertheless wants his side to keep up the pressure on Jose Mourinho's league leaders, citing the example of Manchester City in the 2011-12 season.
Roberto Mancini's City side trailed Manchester United by eight points with six games to go but recovered to win the Premier League title on the final day of the season.
"At the moment we are too far from Chelsea to say we are in the title race, but you never know what can happen,' he said.
'I speak as well about Manchester City, why should they give up for the title? They have done it three years ago from being eight points behind."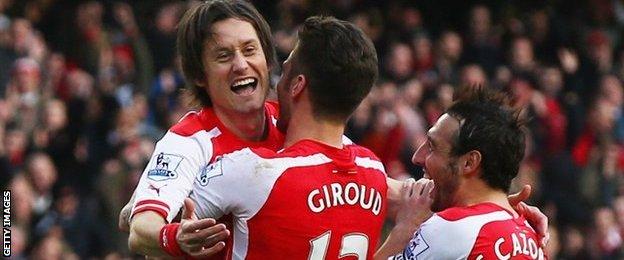 Aaron Ramsey returns to the Arsenal squad
Aaron Ramsey returns to the squad for the Premier League match with QPR at Loftus Road on Wednesday after recovering from a hamstring injury.
The Wales international, who has been blighted by hamstring injuries this season. has not featured for the Gunners since suffering his latest injury during Arsenal's 2-1 win over Leicester City at the Emirates on 10 February.
Ramsey injured his hamstring for the first time this season during Arsenal's 1-1 draw with Tottenham in September, was sidelined for six weeks after suffering a repeat of the injury against Galatasaray in early December, and started just four games on his return before his latest setback last month.
Wenger says the 24-year-old midfielder is nonetheless confident his injury problems are over.
"When you have a repetition of muscular injuries, it can put the handbrake on your body a little bit - to get rid of that is a psychological problem," he said.
"I don't think he suffers from that, looking at him in training."