Russell Crowe: Leeds United fan group seeks meeting with actor
Last updated on .From the section Football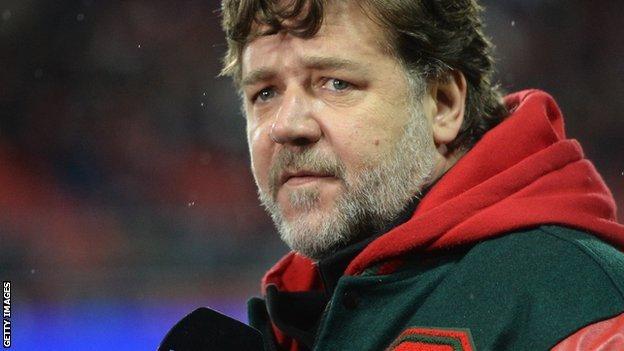 A Leeds United supporters' group wants to meet actor Russell Crowe after speculation that he is interested in buying the Championship club.
Dylan Thwaites fronts Leeds Fans LLP, which has been trying to obtain a 25% stake from club owner Massimo Cellino.
He says they are interested in Crowe's role in rugby league, not Hollywood.
"Via fan ownership, he's taken South Sydney Rabbitohs [the rugby league club he part-owns] from a dire situation to world champions," Thwaites said.
Russell Crowe's recent posting on social media
@LeedsFansLLP
Look at a show called "South Side Story" you'll see how we handled this at South Sydney. It's on YouTube, six episodes. We set up a member company that has its own board and seats on the football club board. There has to be a singular vision. There has to be one voice that sets the tone. Every thought and every decision has to be about success on the field.
"He's a Leeds fan and that's great but what he's done with Rabbitohs is the main reason we're interested," he told BBC Look North.
Since the Oscar-winning actor became co-owner of South Sydney, the current champions of Australia's National Rugby League, fan membership has increased from 3,000 to more than 30,000.
Leeds chairman but Leeds Fans LLP still made contact with Crowe and, via social media, the 50-year-old advised the supporters group to watch a television series about his ownership of the Rabbitohs.
A statement from the fan group read: "We've contacted the South Sydney Rabbitohs to try and track down the series.
"Russell is back in the UK next month and we will try to get a face-to-face [meeting] to see if we can get something more concrete from him."