Brendan Rodgers urges top-three finish, Henderson and Coutinho
Last updated on .From the section Liverpool
Liverpool manager Brendan Rodgers has challenged his players to secure one of the automatic Champions League places and finish inside the top three.
The league's top three teams enter the Champions League at the group stage, while fourth requires a play-off.
"We want to finish as high as we possibly can in the Premier League, not just fourth," Rodgers told BBC Sport.
"Last season we won 12 out of the last 14 games. And the momentum is building into this last period, but we still have work to do."
MOTD2 analysis
Danny Murphy:
"Liverpool's 3-4-3 formation definitely suits Adam Lallana and Philippe Coutinho, but the way Manchester City were set up on Sunday allowed the pair to thrive."
Read more: How Man City let Liverpool duo shine
Liverpool secured the points against City at Anfield thanks to Philippe Coutinho's superb winner after Edin Dzeko had cancelled out Jordan Henderson's opening goal.
Rodgers also claims finishing inside the top four in this campaign would be a greater achievement than last season's runners-up spot.
The Reds sold influential striker Luis Suarez to Barcelona for £75m last summer, while Daniel Sturridge has endured an injury-hit campaign.
"Because of everything we have been through this season it will be a better achievement," Rodgers added.
"We had a good balance to the team last year but it changed around. The team broke up virtually with a lot of new players."
Here's the best of what Liverpool manager Brendan Rodgers had to say in his post-match press conference.
'Frightening to know what Coutinho's worth now'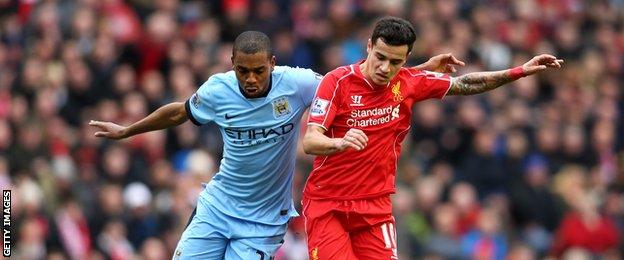 "We brought him in for £8.5m from Inter Milan and it is frightening to know what he could be worth in the market, but there are still improvements to make," Rodgers said.
"His technique is at a high level so he is going to score more goals.
"He is now arriving into the areas, and then he is able to pull the trigger and get his shots off.
"He is now starting to get success and that encourages him to shoot more."
Rodgers on Liverpool's turnaround in form
"Of course it was difficult for us to find rhythm in the early part of the season," Rodgers explained.
"Lots of the teams were ahead of us both in terms both of points and performance levels. But we found a solution; the players believed that and performed to a high level.
"I think it shows everything about the character as well as the quality. It was an outstanding team performance, littered with good play and great spirit."
'Henderson played through the pain barrier'
"Jordan couldn't play against Besiktas last week. His foot was really sore and he had to have an injection. He's found it difficult to strike the ball," Rodgers added.
"But he put himself out for the team because he's a winner and he wants to perform for the team.
"So when he hit the shot and scored a goal like that it makes it all worth it for the team."