Wes Brown: No mistake over sending off, says referees' body
Last updated on .From the section Football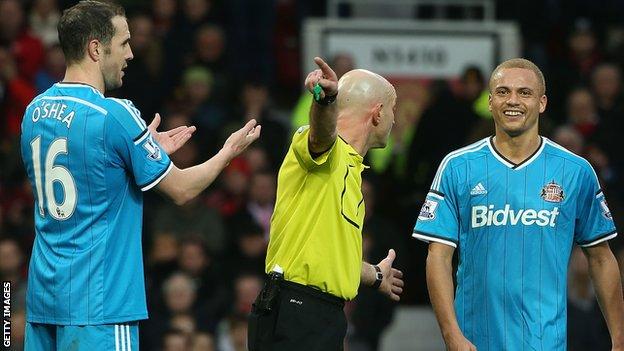 Sunderland defender Wes Brown's sending-off against Manchester United was not a case of mistaken identity, says the professional referees' body.
Television pictures suggested John O'Shea had committed a professional foul on United striker Radamel Falcao.
But the Professional Game Match Officials Limited said East thought Brown had fouled Falcao.
A statement from the body, which manages Premier and Football League referees, read: "As he thought Brown made a foul on Falcao as he was in the act of shooting, he dismissed Brown."
Sunderland head coach Gus Poyet said after the match that he would review footage of the incident before deciding whether to appeal.
"We will analyse it and make a decision," Poyet said.
The incident, in the 64th minute, resulted in a penalty from which Wayne Rooney scored the first of his two goals.
It came hours after football law-makers decided to delay proposals to introduce video referees to adjudicate on matters beyond goal-line decisions.
Poyet's side, who have gone four league matches without a win, are three points above the relegation zone.
The incident: What happened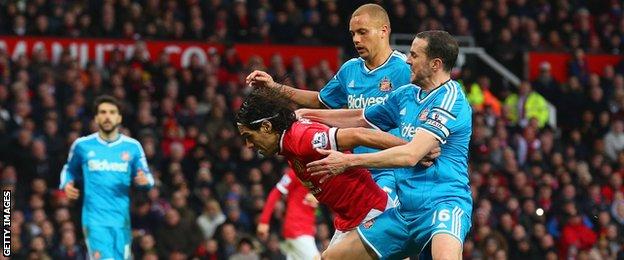 Falcao controlled an Ander Herrera cross inside the penalty area, and appeared to be dragged down by O'Shea as Brown also moved in to make a challenge.
Sunderland captain O'Shea removed his armband as he thought he was about to be dismissed - and when he realised that Brown had been showed the red card instead, seemed to tell referee East that he had sent off the wrong player.
East then spoke to his assistants via his headset, but stood by his original decision.
The fourth official at Old Trafford was Martin Atkinson, who was criticised by Chelsea manager Jose Mourinho for his refereeing during their 1-1 draw with Burnley last Saturday.
The referees' response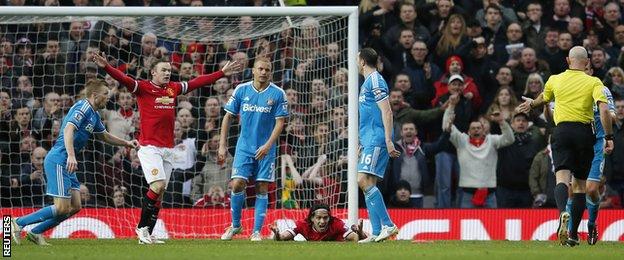 The Professional Game Match Officials Limited said: "From his position, Roger East, the match referee, believed he saw contact from John O'Shea and Wes Brown.
"As he thought Brown made a foul on Falcao as he was in the act of shooting, he dismissed Brown.
"After the incident, the match referee consulted with his team of officials, but none were better placed to offer guidance."
Could O'Shea have changed the decision?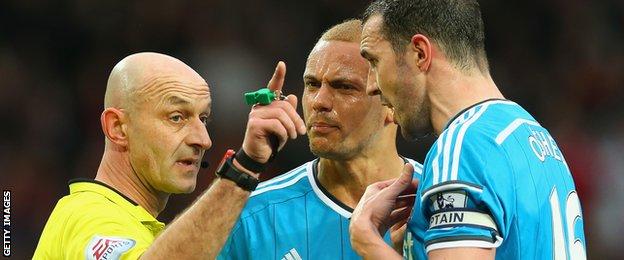 O'Shea had no power to persuade East to change his mind. Even if he had told the referee that he had committed the foul, that could not have been taken into account.
East's mind could only have been changed by one of the other match officials.
If none of the other officials were able to convince the referee that he had made a mistake, then Brown had to leave the field.
The managers' verdicts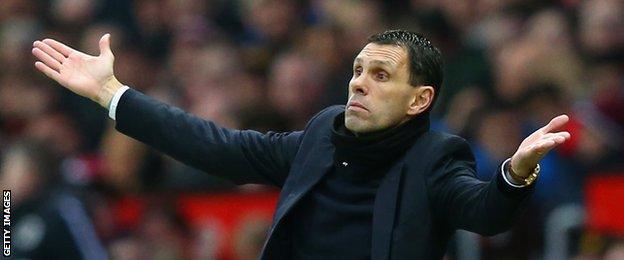 Sunderland head coach Gus Poyet: "The penalty changed the game completely.
"It was difficult to see what happened - we're trying to get a video. It's an incident between two players. We have to analyse it. It didn't look an easy decision to make.
"The referee said that Wes Brown was the one who fouled Falcao first. That's what he told the players.
"You need to ask the referee why he made the decision. We will analyse it and make a decision."
Manchester United manager Louis van Gaal: "The players protested because they felt the wrong player was sent off.
"That's a mistake. You make mistakes as well and so do I. It can happen."
The experts' view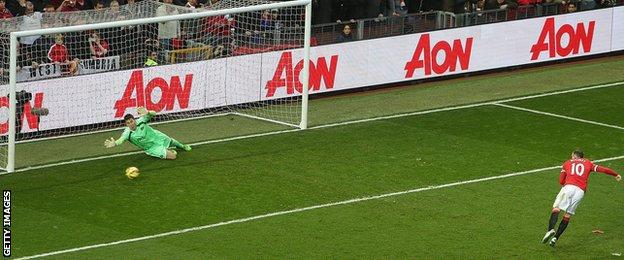 Former England striker Alan Shearer: "Roger East had good view of it. He said John O'Shea fouled him first, then Wes Brown. He felt there were two fouls.
"If Sunderland go back and appeal, which I believe they will, then they might get off on both accounts.
"There's no contact from Wes Brown and, without doubt, he's sent the wrong man off.
"I don't blame him for not believing the players but he's sent the wrong guy off.
"At match speed you can understand to a certain extent what he thinks."
Former England defender Martin Keown: "It was the right decision to give the penalty but the referee sent the wrong man off.
"There has been a lot of talk about the standard of refereeing going downhill, and this is another classic example. When Roger East sees it afterwards, he will be as disappointed as we are because it's hard to believe he has got that wrong.
"The players were trying to tell him that he got it wrong too, but the referees will not listen, and that makes it worse."
What will happen next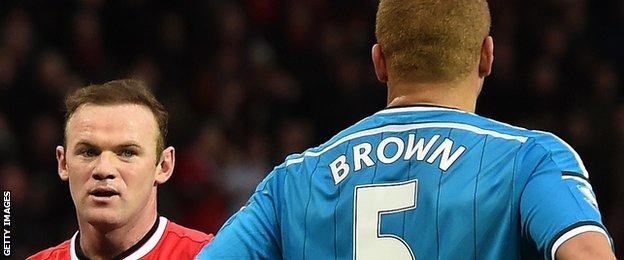 Sunderland do have the option to appeal against a straight dismissal - which they couldn't do for two bookable offences.
If the appeal is successful, the red card would be transferred to O'Shea, who would then serve the one-match ban.
The Gibbs and Oxlade-Chamberlain incident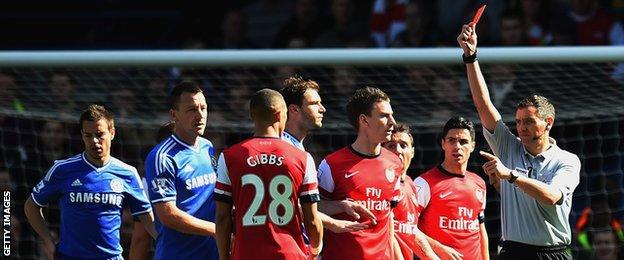 Referee Andre Marriner sent off Arsenal defender Kieran Gibbs in a case of mistaken identity at Chelsea last season.
Marriner dismissed Gibbs after Alex Oxlade-Chamberlain handled an Eden Hazard shot in the early stages of a 6-0 Premier League defeat at Stamford Bridge on 22 March.
The Football Association initially transferred the red card to Oxlade-Chamberlain - but he too escaped a suspension when Arsenal argued successfully that he had not prevented a clear goal-scoring opportunity, given that Hazard's shot was going wide.
Could video technology have made a difference?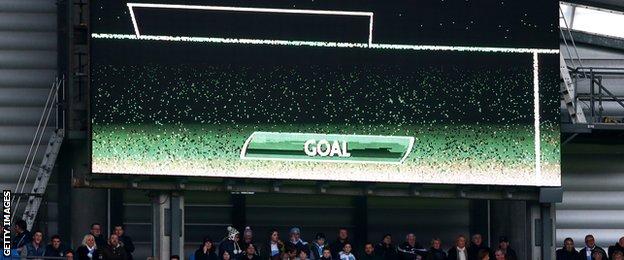 The Premier League introduced goal-line technology in 2013, but television footage is not used to adjudicate on any other decisions in top-flight matches.
A proposal had been put forward by the Dutch FA (KNVB) to extend its trial of having a video official in the stadium watching replays and advising the referee on key decisions via a headset.
Football officials in the Netherlands had wanted to use video officials in the Dutch Cup next season.
But that plan was put back 12 months at a meeting of the game's law-makers in Belfast just hours before the Brown controversy.
Delegates from the International Football Association Board (IFAB) referred the idea back for further discussions.
"Other sports have been swift to adopt video technology," said BBC Radio 5 live's Richard Conway, who was in Belfast to cover the meeting. "But football has always been wary, fearing its use could curb the natural pace of a game."