Celtic v Aberdeen: Derek McInnes insists match will not be decisive
Last updated on .From the section Football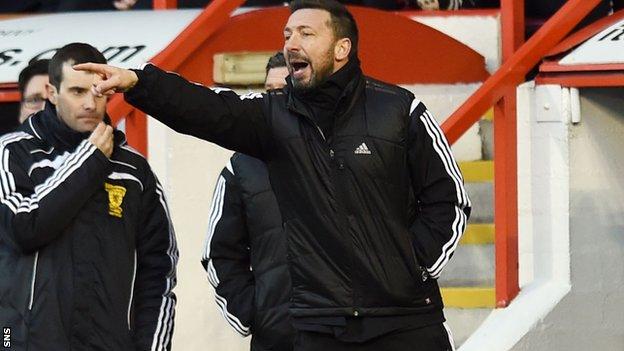 Aberdeen manager Derek McInnes has dismissed Ronny Deila's suggestion that the Dons need to win or draw at Celtic on Sunday to remain in the title race.
The sides meet in Glasgow with Deila's league-leaders Celtic currently three points clear of the Pittodrie men.
"He's entitled to his opinion but I find it a bit strange when there are still 33 points available for us after Sunday's game," McInnes said.
"Win, lose or draw the game, there's still a lot to play for."
On Friday, Celtic manager Deila said: "The pressure is on both teams but Aberdeen has to win, maybe a draw, to stay in the fight for the championship."
And while Dons boss McInnes has been keen to play down his side's title challenge, he disagreed with the Norwegian's assessment of the situation.
"I think it would be wrong to dismiss the challenge of everybody else," he added. "We're well aware of the significance of the game, it's a real opportunity for us and it is against a team we're behind in the league, and it's against a team that we believe we can go and win [against], but the biggest thing for us is trying to bring in a performance that gives us a chance to do it.
"For me it's the same three points that were available last week against St Mirren. We're well aware that with only 13 games to go, there's not a lot of room for error.

"We accept that it's a tough game for us, but equally, it will be a tough game for them.
"Their motivation will be clear, you hear their manager thinking that if they've won the game they think they've won the league. I think back in November, when they beat us here, some of the celebrations would suggest that as well, so we just want to go and try to win the game."
Celtic have won both matches against Aberdeen this season, but McInnes says his side are "playing with a lot of confidence" at the moment.
The Dons are on a 13-game unbeaten run, having won 11 and drawn two of those matches.
However, even if his team return north having secured three points on Sunday, McInnes will remain cautious about their title chances.
"Talk of must-win games at both ends of the table, for me, usually comes after the split," he added.
"I said in January I'd like to still be in the mix in February, we're now going into March and I'd like to think if we can go into April touch-tight with Celtic, we may be able to look at it slightly different.
"If we can replicate in the next 13 games what we've done in the last 13 then we'll be more than happy with what we've given, wherever it takes us, because I see how focused the players are. There are too many points available to say it's a title fight yet."