Kenny Jackett: Wolves boss in mood to carry on attacking
Last updated on .From the section Football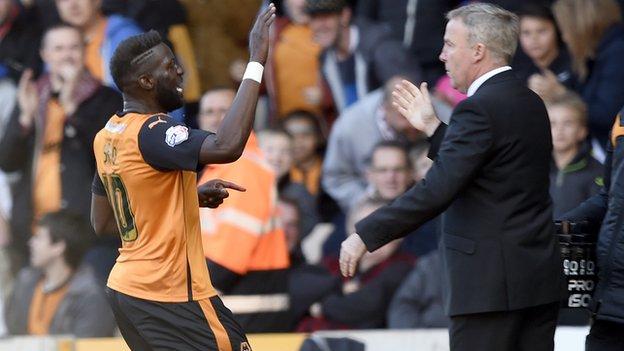 Wolves boss Kenny Jackett says his team must continue to 'go on the attack' if they are to maintain their dream of a second successive promotion.
They led the Championship on 1 November before a five-match losing run, but have since clawed their way back into serious contention.
The key, according to Jackett, is simply finding the back of the net.
"We have found a formula in terms of scoring goals. Going forward we are quite potent," he told BBC Sport.
"At various stages this season, we haven't had that. We also need to tighten up in other areas, but we must continue to go on the attack.
"Winning games consistently is very difficult in the Championship. You have to find different ways to win. The lads need to keep hungry, stay sharp and keep fully focused as we chase that top six and, if we are to have any chance, we need to be inventive around that opposition box."
Wolves remain five points adrift of the Championship play-off places with 13 games to go, despite hitting eight goals their last two games,
Wolves rediscover goal touch
Wolves scored 89 goals last term in winning the League One title, averaging almost two goals per game. This season, they have been far less prolific, averaging just over one a game until this sudden burst of 12 in four matches.
They are nine behind second-placed Middlesbrough following Tuesday night's 3-0 home win over Fulham, and although they now face two tough away games against Cardiff City and Bournemouth, Jackett insists that an automatic promotion place is not out of their reach.
"We've bounced back well from defeat to a very good Norwich side," he said. "If you're looking over the last four games we've got a 'three', a 'four' and a 'five'. It's no coincidence when you can score like that.
"I understand that people need to fall away, but nine points is still doable. Right from the start of the season, promotion has been our aim. I've certainly made up 10 points from the end of February, but I've never made up any more than that."
Having Mali international winger Bakary Sako back in the team following the African Cup of Nations has been a factor.
He has now scored three times in two matches, which will inevitably lead to renewed speculation on the 26-year-old's future when his contract expires this summer.
For now, Jackett is just happy to have him in his side.
"To some degree, we have done well to keep him as long as we have," he added. "But I've been delighted with his attitude. It's good to have goals coming from a different source.
"We have to sum the situation up at the end of the season. But we're comfortable with that and he is relaxed too. He doesn't want to talk about the future or do anything until then. He is happy to focus on Wolves."