Fifa executive member Michel D'Hooghe cleared of corruption
Last updated on .From the section Football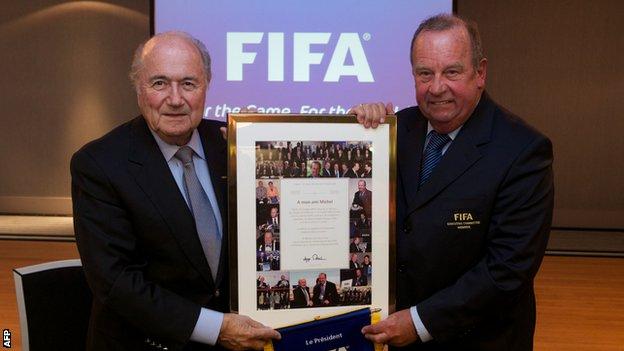 Fifa executive committee member Michel D'Hooghe has been cleared of corruption by an investigation into the bidding for the 2018 and 2022 World Cups.
The governing body's ethics committee found "insufficient evidence to suggest" that the 69-year-old Belgian "had violated their code of ethics".
D'Hooghe, who is head of Fifa's medical committee and an executive member since 1988, denied any wrongdoing.
Russia was awarded the 2018 World Cup and the 2022 tournament went to Qatar.
The decision in December 2010 to award both tournaments was the source of controversy, prompting a 430-page Fifa report into allegations of corruption.
Fifa's ethics committee cleared D'Hooghe of four allegations of wrongdoing.
It said it was satisfied that a painting that he received from the Russian bid "has no commercial value" and "was offered as a friendly gesture".
The ethics committee also dismissed an allegation that D'Hooghe accepted a trip paid for by a bidding nation.
The statement added that "air travel and other expenses for the trip were in fact covered by Fifa" as it was related to his "function as chairman of the Fifa medical committee".
D'Hooghe was also cleared of allegations that he helped secure a business opportunity in Qatar for the son of a close friend.
Fifa's investigation found "insufficient evidence to prove that he was in any way involved in these efforts".
There was also "no concrete evidence" on the fourth allegation, that a relative of D'Hooghe's was offered employment in Qatar shortly after the vote.