Luis Suarez: Barcelona forward exposes Man City at elite level

By Phil McNulty
Chief football writer
Last updated on .From the section Football455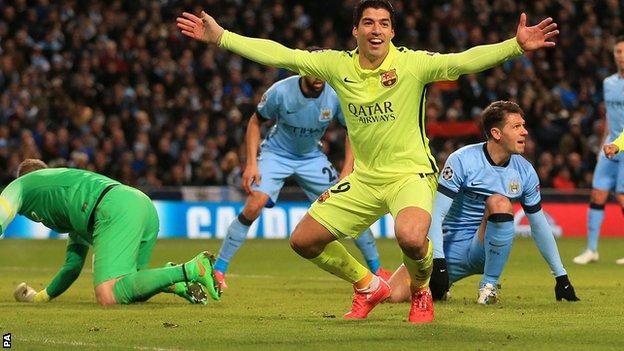 Manchester City's match programme delivered a temptation impossible for fate to resist when it described Luis Suarez as "the dogsbody in this trio of artful dodgers" in comparison to Barcelona superstars Lionel Messi and Neymar.
Suarez - the bogey man returns
This was Suarez's first game in England since his farewell to Liverpool on 11 May and a 2-1 win against Newcastle United that was scant consolation for a late slump that cost them their first title in 24 years.
And it was the first time he had faced goalkeeper Joe Hart since he effectively ended England's World Cup campaign with both Uruguay goals in their 2-1 victory in Sao Paulo on 19 June.
Suarez subsequently left Brazil in shame after biting Italy's Giorgio Chiellini before completing a £75m move from Liverpool to La Liga with Barcelona.
He may have gone but he was not forgotten. Suarez's name was greeted by a chorus of boos when it was announced at Etihad Stadium - but within minutes he was reminding City, Hart and the rest of English football what it had been missing.
Luis Suarez - goal tally after 23 games

Liverpool in 2012-13

Liverpool in 2013-14

Barcelona in 2014-15

13

23

9
Drifting centrally as well as wide, Suarez's movement was simply too much for labouring City captain Vincent Kompany, who was given a torrid time. The first goal came when Messi's cross bounced off Kompany for Suarez to pounce and Hart came to the rescue before the Uruguayan was more alert than anyone in City's defence to slide in Jordi Alba's cross.
Suarez's early work at Barcelona, done in the giant shadow cast by Messi and Neymar, has perhaps gone under the radar but statistics speak eloquently on his behalf. With nine goals and 12 assists, he has been involved in 21 goals in his first 23 games for the club.
And this was classic Suarez. Always on the go, full of mischief and menace, never giving opposition players or fans a minute's peace. Anyone connected with Liverpool who believes they are not missing what Suarez gave them surely had their view readjusted by this display.
Suarez only scored once in six games for Liverpool against City, although this somewhat belies the danger he caused them, especially in the 3-2 win at Anfield last season.
This time the threat was embroidered by goals, two from three attempts, and a performance that will have left the beleaguered Kompany, in particular, glad he is now in Catalonia rather than just along the M62.
For City, Kompany and Hart - who has conceded four goals to Suarez in their last two meetings - there may be sleepless nights about their next meeting in the Nou Camp.
Should Pellegrini have gone a striker light?
Manchester City manager Manuel Pellegrini dismissed suggestions he had left his team open to exploitation by Barcelona with his decision to pick two strikers in Sergio Aguero and Edin Dzeko.
The theory, according to Pellegrini, was that City's good second-half performance proved this was the way to go against Barcelona. The flaw, a significant one, was that the good of the second 45 minutes was heavily outweighed by the bad of the first.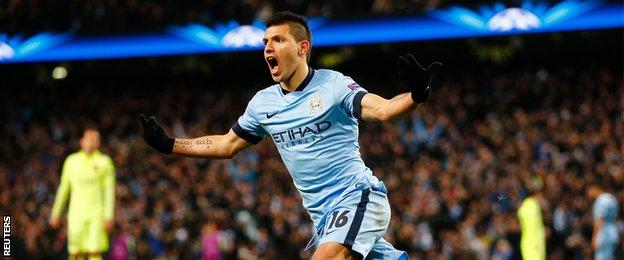 Pellegrini is convinced of his method but a record of played three, lost three against Barcelona since arriving at City is not much of a cushion to fall back on.
When City lost 2-0 to Barcelona at the Etihad a year ago, Pellegrini employed Alvaro Negredo as a lone striker. This time the result was slightly less damaging but this still seemed a faulty game plan. For all Pellegrini's words, this looked like a system that played right into Barcelona's hands.
With Aguero and Dzeko up front, City were simply overrun in midfield. Fernando has not delivered since arriving from Porto in the summer while James Milner struggled alongside him in central midfield. Barcelona had the run of the Etihad and David Silva and Samir Nasri were in no position to change that emphasis, nor are they the sort to harry and press to regain possession.
Nasri insisted things would be different this year but he had no chance to influence events, spinning around on what Sir Alex Ferguson, watching from the directors' box, called Barcelona's passing "carousel".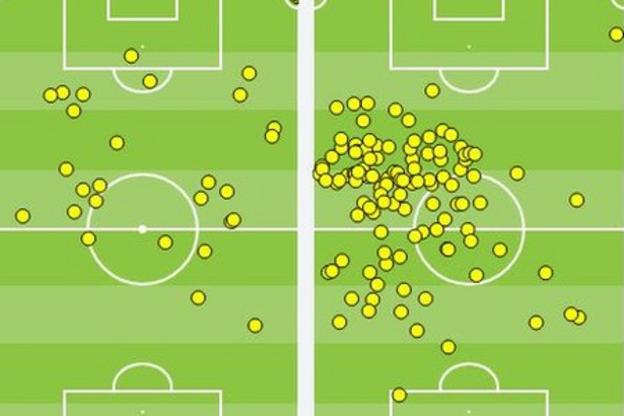 He had only 31 touches and lasted just 61 minutes before he was replaced by Fernandinho. Silva had 61 but contrast this to Barcelona. Messi and Alba both had 110 touches while the ageless Andres Iniesta had 113.
If there is one club side in Europe you do not allow to dominate possession, it is Barcelona. Pellegrini's approach, in the first half at least, allowed that to happen with inevitable consequences.
City need to win and score at least twice in the Nou Camp. It will be fascinating to see if Pellegrini, despite his defiance, alters this approach and goes with just the outstanding Aguero.
Misery loves Kompany as Barca shine
Manchester City are not alone in failing to survive against quality such as Messi, Neymar and Suarez - but there were worrying signs as Barcelona ran their defence ragged in the first half.
The biggest concern will be the form of Kompany. He was unfortunate when Messi's cross rebounded off him for Suarez to open the scoring, but his positioning was poor for the second as the 28-year-old was a shadow of the figure of authority that has led City to two Premier League titles in the last three seasons.
Before the game Kompany had suggested you might get tougher games against Stoke City than Barcelona. All due respect to Stoke, as they say, but not in the real world.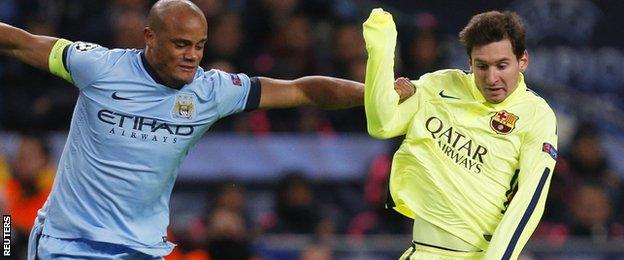 Kompany seemed unnerved by the simple presence of Suarez, slow to react and sluggish. Perhaps he is not at peak fitness but Suarez preyed on the uncertainties of a defender who has come to represent the very best City have been offering in recent years.
He was also guilty of squandering possession in dangerous areas, an area of weakness as opposed to the strength he has been in the past. Kompany made just one tackle all night.
The normally reliable Pablo Zabaleta was panicked into the foul on Messi in the area but was spared by Hart's penalty save while Gael Clichy was sent off for two yellow cards. Not much good news there.
City were vulnerable to the Barcelona trio's direct running, ability to switch positions and counter-attacking.
It will not get any easier in the Nou Camp and Pellegrini must hope Kompany regains some of the form that has currently deserted him.
Do Man City look out of place against elite?
Examine Tuesday's evidence and the answer can be split very easily - in the first half yes, in the second half no.
It took City until the 45th minute to get a shot on target, from Nasri, while even more damning is the statistic that they have only kept one clean sheet in 14 home Champions League games, a 2-0 win against Bayern Munich in December 2011 on a night when they went out of the competition.
Wins against Bayern and against Roma in Rome to negotiate a difficult group suggested they were coming of age and coming to terms with the demands of the Champions League - but a timid first half here revisited old doubts.
There is an abundance of talent in City's squad but the concern still lingers that they lack the self-belief that they belong in this elite company.
It was inevitable a club that developed at such pace would experience growing pains in the Champions League but the manner in which Barcelona gave them such a mauling in the first half would still be a worry.
The second half offered up a more optimistic view. City showed great spirit, created chances and were building momentum from Aguero's goal until they were reduced to 10 men.
City's players talk like they belong at this level. There will be no better way to prove it than by winning in the Nou Camp.
Can Man City still do it?
City can still qualify and the task was made slightly easier by Hart's late penalty save from Messi - but statistics are not in their favour.
They will need to score two or more goals at the Nou Camp to go through and only one team has done that this season, Villarreal in a 3-2 loss.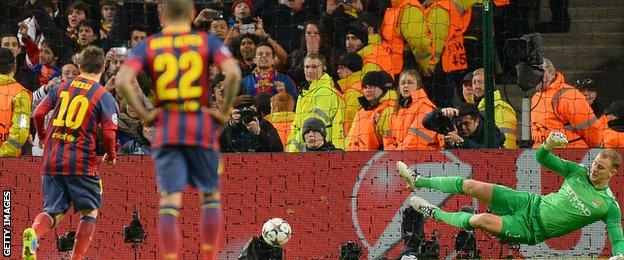 Yaya Toure will be back from suspension so that will provide an immediate lift, although his critics point to the fact that he can be less effective against sides that like to dominate possession rather than allow him to get on the ball and do damage.
In Aguero, City have a world-class striker who can score against any defence and it will be goals they need, while Silva can be the creator supreme against the best opposition.
So the answer is yes - but show the same deference and defensive flaws as in the first leg and all logic suggests Manchester City's latest Champions League campaign will come to grief as it did last season. In the last 16 and against Barcelona in the Nou Camp.