Africa Cup of Nations: Egypt confirms 2017 bid withdrawal
Last updated on .From the section Football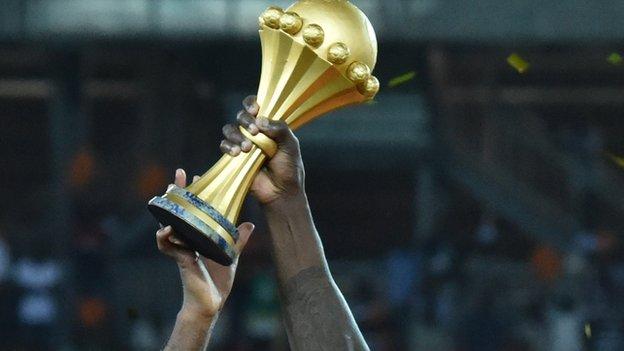 Egypt's sports minister Khaled Abdel-Aziz has confirmed his country has abandoned its bid to host the 2017 Africa Cup of Nations.
"We have decided to withdraw our application and will support that of Algeria," he explained.
Gabon and Ghana have also made bids, the Confederation of African Football will announce the hosts on 8 April.
Libya had been due to host the finals but withdrew due to the ongoing political instability.
Abdel-Aziz did not expand on the reasons behind the decision but was talking after FIFA executive committee member Hany Abu Rida said it did not make sense for two Arab countries to compete against each other.
"Egypt will not compete with Algeria - on the contrary we will give the best support we can," Abu Rida said.
The move comes after the death of 22 fans on 8 February when police and supporters clashed before a game between Cairo clubs Zamalek and ENPPI.
All domestic football is currently suspended until further notice but the Egyptian Prime Minister Ibrahim Mahlab believes the league will not end up being cancelled.
"Frankly, I hope the league returns but it must resume in a secure and safe atmosphere," Mahlab told an Egyptian TV programme on Saturday.
"We will discuss this subject next week in the cabinet. Our priority is to balance the importance of the league's return with the safety of footballers.
"If the league resumes, it will be definitely without fans at stadiums," Mahlab declared.
The latest tragedy coincided with the first round of league matches that limited fans had been allowed into stadiums since February 2012 when at least 72 Al Ahly fans died in clashes with Al Masry fans at the Port Said stadium.