Liverpool's Brendan Rodgers critical over Mario Balotelli penalty
Last updated on .From the section Football
Liverpool boss Brendan Rodgers has criticised his players' "etiquette" over a penalty kick in their 1-0 Europa League win over Besiktas.
Substitute Mario Balotelli scored after taking the ball from Jordan Henderson.
Captain Steven Gerrard, working as a television pundit, called the Italian's actions "disrespectful".
And Rodgers said: "I don't like the etiquette - you don't like to see four or five players around a football looking to take it."
However the manager added it was the right decision and praised Henderson for allowing Balotelli to take the kick: "He respected that Mario is an outstanding penalty-taker and was happy to give it to him to take."
There appeared to be a disagreement between Henderson, Daniel Sturridge and Balotelli over who should take the kick which ensured Liverpool won the first leg last-32 game.
Rodgers tried to clear things up by saying: "There has been a lot more drama made about it from you [the media] than us.
"It's very clear who the penalty takers are. When Steven [Gerrard] plays he is number one. With the players on at the start of the game Jordan was nominated penalty taker.
"But if Jordan, Steven and Mario are on the pitch at the same time then we normally have Steven or Mario take penalties."
Praising the "coolness and calmness" of the Italian, Rodgers added: "History shows he [Balotelli] has scored nearly 30 penalties in big games so he is an outstanding penalty-taker, but none of them were on [at the start] so you have to nominate someone.
"I always assign responsibility every single game and I think this is the first time that has reared its head.
"I think there was a bit of a kerfuffle around it because they just wanted to make sure he [Balotelli] was happy to take it but that was it really.
"It was maybe more the etiquette which was not as we would have liked but we got the end result."
Rodgers was speaking at a news conference before Liverpool's Premier League game at Southampton on Sunday (16:15 GMT).
On Balotelli's impact since joining Liverpool
"He wants to contribute. It has been a difficult time for him here but he knows what he needs to do to have an impact on the team.
"Whether he starts or comes off the bench it is important he has that, but that will come with working in training every day."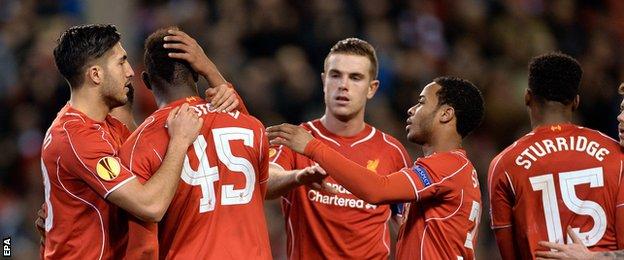 Is Henderson the next Liverpool captain?
"People see him as that automatic next captain but that is not necessarily the case.
"Everyone is trying to catapult him into the next Steven Gerrard and he is not that.
"He [Henderson] is still young but it is not automatic he will be the next captain but at this moment in time, when Steven doesn't play, he is working that role very well."
Gerrard still out but Raheem Sterling to return
Rodgers said Gerrard will not be fit enough to travel to Southampton with a hamstring problem but Raheem Sterling and Philippe Coutinho have both been cleared to play.