Arsene Wenger: Chelsea Metro racism was 'pathetic and dreadful'
Last updated on .From the section Football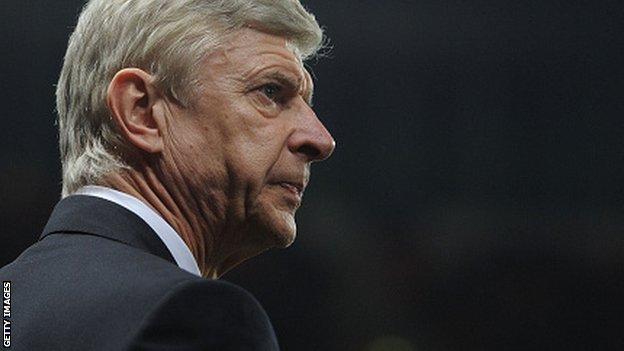 Arsenal manager Arsene Wenger says the racist incident on the Paris Metro involving Chelsea supporters was "pathetic and dreadful".
Chelsea have suspended three fans from Stamford Bridge after a black commuter was blocked from entering a train on Tuesday, ahead of their Champions League match at Paris St Germain.
Frenchman Wenger, who said racism was "society's problem", said: "It looked pathetic and dreadful. You have to be extremely severe with any incident of that calibre."
Prime Minister David Cameron and a host of footballing leaders, including Fifa president Sepp Blatter, have also condemned the incident.
Paris prosecutors have confirmed the alleged victim has made a formal complaint, and the three as yet unnamed Chelsea supporters suspended by the club face lifetime bans from football if found guilty.
In Wenger's news conference ahead of Saturday's Premier League match at Crystal Palace, he also talked about the return of to fitness of midfielder Jack Wilshere, speculation over the future of Santi Cazorla - and the England cricket team's World Cup thrashing by New Zealand.
On the return of Jack Wilshere
The 23-year-old England midfielder has returned to fitness after missing the last three months with an ankle injury. But Wenger says he will not risk the balance of the side to rush him back into first-team action.
"Jack is a bit ahead of schedule and has worked hard with no big problems, so it's good to have him back," said Wenger.
"But no matter who plays, you always worry first about the balance of the team."
On Thierry Henry
Wenger confirmed the former Arsenal forward had been back at the club this week working with the academy as part of his first steps into a coaching career.
"It is good for our young players to be coached by him, a legend of the club," said Wenger, who believes Henry could one day manage Arsenal.
"I have said that many times, but I have had many, many players who can do this job."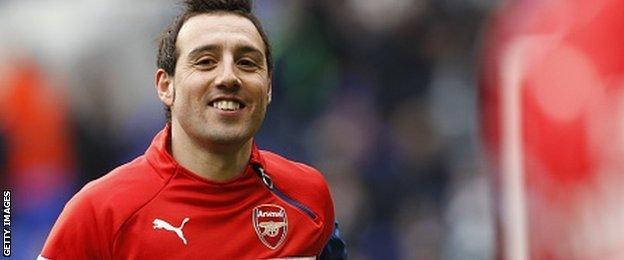 On Santi Cazorla transfer speculation
Wenger has dismissed speculation linking the 30-year-old Spanish midfielder with a move to Atletico Madrid.
"The suggestion is only a suggestion. We have never been approached by anybody about him," he said.
"He has extended his contract last year. I think he has still two years to go."
On the England cricket team's heavy defeat by New Zealand
The Arsenal boss believes England's under-performing cricketers should not be subjected to the 'hairdryer treatment' after their eight-wicket defeat to co-hosts New Zealand in the World Cup.
"What is interesting in sport is that it is practised by human beings - they are not robots," he said. "They have good and bad days and after a very bad day they can only get better.
"[As a manager] with a team you have to be severe when you win and sometimes be helpful when the team loses."