Romelu Lukaku loves playing for Everton, says Roberto Martinez
Last updated on .From the section Football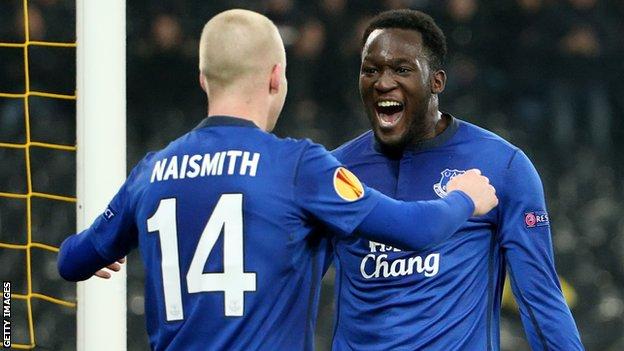 Roberto Martinez says Belgium forward Romelu Lukaku has shown his commitment to Everton with his performance in Thursday's 4-1 victory at Young Boys.
The striker, 21, angered fans earlier this month by telling a newspaper that he hoped to leave for a "top club".
"He loves playing for Everton, and I think he showed that today," Everton manager Martinez said.
Speaking after a 1-0 Premier League defeat at Chelsea on 11 February, Lukaku said: "I just want to grow as a player and eventually arrive at a top club again."
Martinez said: "There has been a lot written about that - there was a conversation taken a little bit out of context after the Chelsea game.
"It was clearly someone looking for a headline about if Rom wanted to perform in order to come back to Chelsea, and his answer probably didn't reflect what he meant.
"It's never an issue. Rom was delighted to commit himself to Everton.
"A footballer needs to be measured by the way he talks on the pitch. Sometimes a microphone can be put in front of you and people then dissect everything you say and highlight a word or line which is not appropriate.
Lukaku trebles
Romelu Lukaku's hat-trick was his second for an English club - he scored three goals in May 2013 for West Brom in a 5-5 Premier League draw with a Manchester United side who were being managed for the last time by the retiring Sir Alex Ferguson
"It's not an issue. He's a special footballer who we love seeing developing, and he's just enjoying being an important player for Everton."
Since making a permanent £28m move to Everton from Chelsea in July, Lukaku has struggled to reach the levels of form he showed during a loan spell at Goodison Park last season.
But his hat-trick in Switzerland - featuring one header, one right-footed shot and one left-footed shot - took his goal total for the season to 13, and made Everton clear favourites to win the tie ahead of next Thursday's second leg at Goodison Park.
Martinez said: "He's the complete striker, but he's only 21 and people forget about that. Our desire and work we put in over the summer was to show we are the perfect place for him to develop."
Everton finished the game with 10 men, as England centre-back John Stones was sent off for a professional foul on Young Boys' France international striker Guillaume Hoarau.
Martinez said: "John Stones will learn massively from today's moment. We had to dig deep and defend with 10 men but we still looked like the team with most threat. That says a lot about the tactical awareness the players have developed."