Mark Warburton: Brentford boss rejects increased statistics use
Last updated on .From the section Football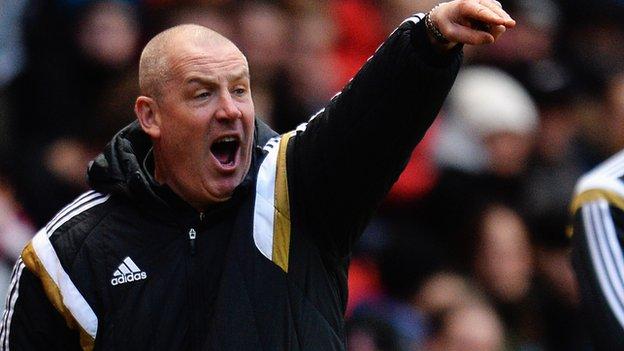 Brentford boss Mark Warburton said a disagreement over the increased use of statistics for recruitment was one of the key reasons for his impending exit.
Owner Matthew Benham runs a company that produces football statistics.
"He wants recruitment to be based more on mathematical modelling and statistics allied to normal scouting methods," he told BBC Radio 5 live.
"For me, I have a different philosophy on how the football department needs to be run to be successful.
"Matthew's a very smart individual. His company is based on football analysis and data and we've used that over recent months. There will be more emphasis on that area."
Like Warburton, Benham previously worked in the city before setting up Sportodds, a company which sells statistics and tips to professional gamblers and syndicates.
Warburton said he was open to a so-called 'Moneyball' approach, but felt the future direction outlined by Benham was not the right "balance" for him.
Moneyball is a system which emerged in baseball in which the smart use of undervalued statistics allowed financially disadvantaged teams to compete with better-resourced rivals.
"I don't want to come across as old-fashioned. I embrace new techniques and ideas," he said.
"It's been very amicable but it's two different philosophies. He's the owner and that's the direction he wants to take the club in."
Mark Warburton at Brentford
Joined Brentford as first-team coach in February 2011
Appointed sporting director in June 2011
Appointed manager in December 2013
Brentford promoted to the Championship in April 2014
Brentford currently seventh in the Championship
Has won 54% of his 61 games in charge (won 33, drew 11, lost 17)
Brentford have lost to promotion rivals Watford and struggling Charlton since speculation about Warburton's future first emerged but the 52-year-old insisted there had been no loss of focus.
"I see them day-in, day-out, and I know how hard they work, the unity, and there's no shortage of quality," he added.
"I thoroughly enjoy this role of being a manager and working with players and I hope it alerts potential employers. I keep being told my stock is high but football's a strange game."