Scotland's Robert Snodgrass on the 'hardest task' of his life

By Richard Wilson
BBC Scotland
Last updated on .From the section Scotland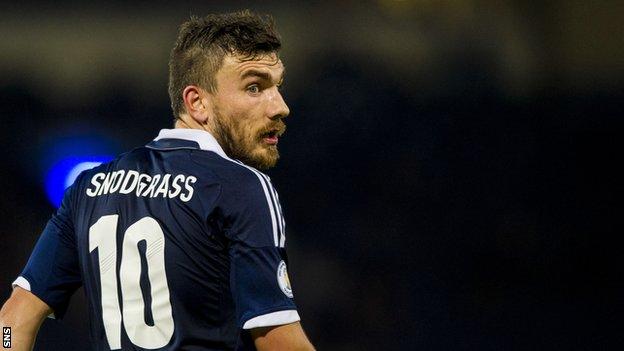 A little after 10 o'clock in the morning, Robert Snodgrass walked back through the doors of St Anne's Primary, his former school in Glasgow's east end.
"This was usually the time I got to school," he joked.
He chatted with teachers - some of whom he knew from his school days - then strolled into the main hall, where morning assembly was taking place. Snodgrass was at ease in the surroundings, because in a sense they have never left him.
The corner of one of the stands at the nearby Celtic Park can be clearly seen from the playground.
Snodgrass played football here with his classmates every day, in his formative years, and he remains in contact with many of those old friends.
During a challenging time in his rehabilitation after dislocating his knee and damaging ligaments, it was Glasgow that Snodgrass returned to, for a change of scene and to be surrounded by family and friends.
"It's been the hardest task of my life not having football," Snodgrass said. "I'm just trying to be the best person I can be every day and I'm working as hard as I can.
"I'm halfway [through the rehab] and at the strengthening stage, trying to get the muscle a bit bigger. I've been down there for six months watching the lads train every day, it's been difficult.

"The aim is to try to get back for the start of next season. It's down to how hard I work. It could be before or after that, it's how the rehab goes and I need to listen to the experts.
"I'd love [to be back for Scotland's games against Georgia and Germany in September], that's in the back of my head because the first thing to do is to get fit and come back stronger, so that this doesn't happen again."
Snodgrass is working with the physio, Jim Fallon, at Hampden, with the treatment schedule planned with the physios at his club, Hull City.
He suffered his injury 40 minutes into his league debut for the club, on the opening day of the season, and coping with being on the periphery of the game has been emotionally and mentally challenging.
The return to St Anne's was to support an initiative to increase the number of teachers helping children to become more physically active.
For Snodgrass, naturally, the attention turned to encouraging more youngsters to take part regularly in football, although when the bell rang for the morning interval, many of the children running out to the playground were clutching football boots and heading for a pitch next to the school.
The visit could have been cathartic to Snodgrass, as a reminder of times when the game was less complicated.
He has lost little of that feeling of joy that playing football brings, though, even during the longest injury spell of the 27-year-old's career.
"I don't think school makes you determined, you need to have that in yourself," he said. "I never believed that I could be a footballer, because where we come from it was never known.

"I enjoyed it and I did it because that's what made me happy. When you start pulling on a strip it starts to get a little bit more serious. You need to have that drive in yourself.
"It's weird because coming back to your school you've got butterflies. This is where it all started. I made friends for life here. It was a great [school] team, we always produced some decent players, from the Barrowfield area, the Gallowgate. It was good to be a part of it."
Snodgrass doesn't wholly feel a part of it just now, having become frustrated at Hull as he worked with the physios while the other players were preparing for matches. It has been the same with Scotland.
Gordon Strachan has invited Snodgrass to join up with squad gatherings and ahead of matches, but he feels that it would be too awkward.
"He's tried to keep me involved, but I've tried to switch off from that side," Snodgrass said. "That's their business and I'm in the background wishing them all the best.
"He's wanting me to mix with the lads and still feel part of it, which is great from him. It's so easy for a manager to forget about you when you're injured, and it's good for myself that these guys are concerned about me.
"It has been [difficult to watch Hull City], winning or losing, because you feel that's the team you should be playing for. That's the difficult side of the injury, on a Saturday you're thinking, what am I supposed to do here?

"I've occupied myself in different ways, I've kept myself busy with the kids and enjoyed that.
"It's very hard to watch because you want to be part of it, to try to help the lads, because there's a great team ethic and work ethic. Every game in the Premier League is tough and the results over the past couple of weeks have come at a vital stage.
"They've always had the talent, but when you fall into a losing habit you're then scratching your head wondering where the next win is coming from."
For Snodgrass, the next victory will be when he returns to action for Hull and Scotland - fit and able again to resume his career.