FA Cup: Wrexham's Moult and Bishop may face Stoke - Wilkin
Last updated on .From the section Wrexham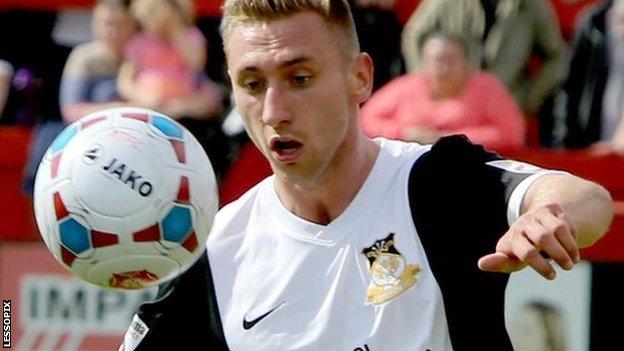 Wrexham manager Kevin Wilkin hopes strikers Louis Moult and Andy Bishop will be fit for their FA Cup clash against Premier League Stoke on Sunday.
Moult, 22, has an ankle injury and Bishop, who scored twice in the 3-1 win against Maidstone in the second round, has a hamstring problem.
The strikers have 17 goals between them for the Conference side this season.
"They're on the treatment table and are obviously being treated intensively now," said Wilkin.
"There is an outside chance that both Louis and Andy could be available for Sunday. The physio is doing everything he can to get them ready.
"They won't do a lot of training between now and the game, it's just a case of whether we can get them out on Saturday morning to join in training and see where they are at.
"We are hopeful and I think they are quite hopeful that they may have made a sufficient recovery to take part."

Wilkin has been promised money from their cup exploits to buy new players, though he has said retaining existing players is his "priority".
But he has not ruled out the possibility of adding to the squad in January.
"We'll just have to wait and see exactly what money is available and where we can utilise it and make it work best," he said.
"Whether we can afford them and whether we can go and purchase players in the January window remains to be seen.
"If there are any free transfers through the window then that's a possibility as well."