Rangers: Dave King slams chairman David Somers over bids

By Richard Wilson
BBC Scotland
Last updated on .From the section Football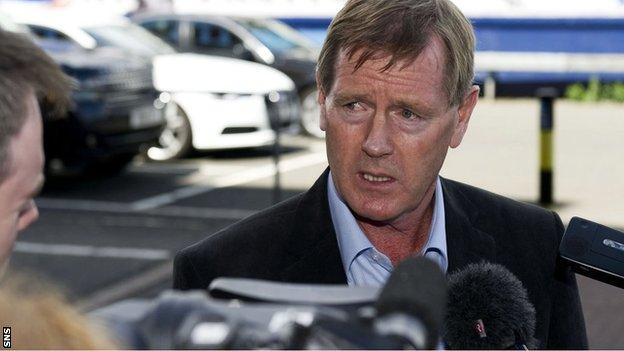 Prospective Rangers investor Dave King has accused the club's chairman, David Somers, of "putting personal concerns ahead of his fiduciary duties".
expressing fear that he would lose his Rangers board seat should King consortium's funding offer be accepted.
King was part of the consortium that offered £16m in investment, in return for control of the Rangers International Football Club board.
This, though, was ultimately rejected.
Ashley, who owns 8.92% of the shares and whose request to increase his stake was on Wednesday eventually provided £3m in loans to tide the club over.
Somers had warned Ashley's associate that he was concerned about his own role as chairman and the board positions of James and Sandy Easdale.
In the email, Somers referred to "a formal proposal of a deal from Dave King and my board are clamouring for a call to discuss it and no doubt approve it. A board on which James [Easdale] and I are a minority.
"Sandy, James and I will not survive on this board very much longer [if the consortium's offer was accepted]. Yes, you can vote them off at the next AGM but they can do a great deal of damage before then."
Having now read the Somers email, King believes that it is evident that the Rangers International Football Club board would have found the consortium's offer "acceptable without Somers' attempts to work with Ashley to provide an alternative".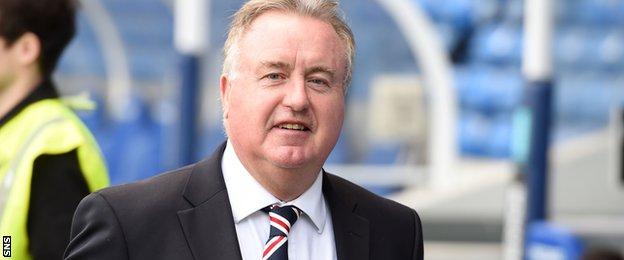 King also believes that Somers' role as an independent director and chairman should be investigated by the relevant financial authorities.
"His actions could be considered a breach of the Companies Act," King told BBC Scotland.
"It would seem from the email that Somers didn't like Ashley's initial proposal, yet that was option the board finally went for.
"It also seems that Somers was prepared to threaten to cancel Rangers' retail agreement with Sports Direct to prompt Ashley to provide an alternative that would protect the positions of himself and the Easdales.
"Ashley owns less than 10% of the shares, but now seems to control the club. I'm sure he is now attempting to persuade the SFA to allow him to achieve outright control."
When asked for a response to the email, Somers told BBC Scotland that the "Dave King proposal started well but fell at the first hurdle of 'show me the money' and 'who are the eight people in your consortium'.
"In the end, we couldn't get a sensible realistic deal from anyone at that time despite my trying to put pressure on each of them to produce something sensible, we had to opt for one of the two loan possibilities [the other having been offered by Brian Kennedy]."